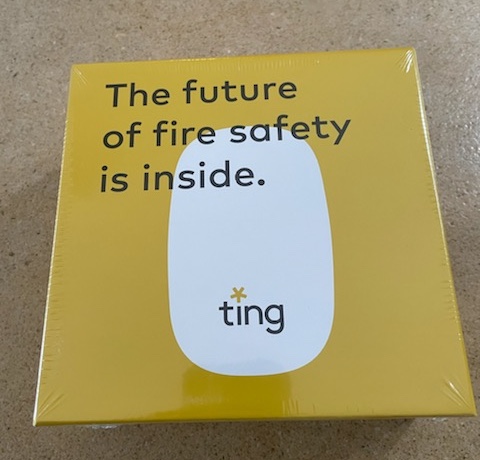 If you have State Farm homeowner's insurance, check to see if you are eligible for a free Ting smart sensor that monitors your home's electrical wiring for faults that can lead to fires. Three years of Ting service is included, which includes a $1,000 credit toward the cost of a licensed electrician to find and fix hazards found by Ting. Their press release states that electrical fires make up approximately 13% of all home fires.
Some of these preventive detections included sensing clear arcing signals isolated to a chandelier in master bathroom, identifying a missing neutral connection in a sub-panel, and detecting arcing signals consistent with water interaction with electrical system.
Qualified customers who enroll will receive:

– Free Ting sensor with mobile app access
– Pay no annual service fees for three years (fees paid by State Farm)
– Receive $1,000 credit toward remediation of electrical fire hazards (provided by Whisker Labs)
What happens after the 3rd year? Before the end of the 3rd year, State Farm will notify you if the program will be extended as-is, changed, or discontinued. No payment information is requested at the time of enrollment, and you can cancel at any time. There is no obligation to continue the service.

Do all hazards identified by Ting require a licensed electrician for mitigation? In many cases, remediation of the hazard simply means stopping the use of an offending device, such as a heating blanket, sump pump, lamp, or pet feeder (all of these are real examples, among many more). In other cases, a hazard requires professional remediation.
Hat tip to DoC, as I did not receive en e-mail regarding this even though I am eligible and have since gotten and installed my free sensor.
Currently available in the following states:
Alabama
Arizona
Arkansas
California
Colorado
Connecticut
Florida
Georgia
Hawaii
Idaho
Illinois
Indiana
Iowa
Kentucky
Maine
Massachusetts
Mississippi
Missouri
Montana
Nevada
New Hampshire
Ohio
Oklahoma
Pennsylvania
Rhode Island
South Carolina
Texas
Utah
Vermont
Virginia
Washington
Washington, DC
West Virginia
My experience. Enrollment was quick and easy, and the sensor arrived from Ting within a few days. Installation was also quick and easy; just install the app and everything is done via Bluetooth and WiFi within a couple of minutes. Right now, it is is "learning mode" and analyzing my home's electrical wiring. It will be reassuring to know that there is no obvious electrical fire hazard lurking in my (old) home.