The following is a guest post from reader Leslie, who shares her story of returning to the workforce by starting her own business in Florida. You can see more of her work at on Facebook and soon at LALGraphicDesigns.com (currently under construction).
Background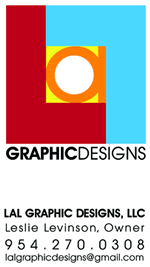 As a thirty-five year old mother of three, for the past decade I have been fully employed as a stay at home mom. When my first child was born I put my career aspirations and four year college degree aside to focus on raising our children. Before motherhood, I used to work as a graphic artist doing on-air graphics for a local TV station and a national satellite TV provider. Now that all the kids are all in school, with encouragement from friends and family, I recently started my own home based graphic art and design business. This is the story – or at least the first chapter – in a story which just began to be written about my home based business.
After "retiring" to run our household, I kept my artistic and computer skills fresh over the past several years by volunteering and providing free graphic arts services for community organizations, schools, friends and family. Samples of school T-shirt and business logo designs are copied in the margins. Although I committed my energies to raising our children, I had always wanted to run my own business. As set forth below, my contacts through our local parent teacher associations and charities have developed into business clients.
Formation and Formalities

Understanding that a good rule of thumb for a home base business is to keep it simple, I decided to establish a limited liability company (LLC) with pass-through taxation as an S Corporation. This was accomplished in less than a month by doing the following:
mailing an application and articles of incorporation to the State of Florida Division of Corporations to establish the business;
applying on-line for a tax id number with the IRS;
filing a Form 2553 with the IRS to elect pass-through taxation as an S Corporation;
opening a free business checking account with the new tax id number and articles of incorporation. [Note that I am not required to collect sales tax since I am not selling tangible personal property, only a service. Any designs or logos that I prepare will be delivered electronically by email. We carefully researched and confirmed this conclusion with our state sales tax office.]
Satisfying the federal and state requirements was relatively painless. Applying for the home business in our city in south Florida was slightly more time consuming and expensive. The State of Florida first year incorporation fee was only $125. There is no fee to apply for the federal tax id number or to file the Form 2553 with the IRS, apart from the income tax due next year.
Our city requires all home based business to apply for a certificate of use with the building department. The certificate will not be issued until the home is inspected by a city fire marshal. For example, the home based business may not exceed 25% of the total floor area of the home. This was not a problem since the business is based in my office/study. My only equipment is my desk, computer, scanner and related audio visual accessories and supplies.
Our city's requirements for home based businesses are set forth in the city code and can be accessed at the City of Weston website. The city restrictions are focused on preserving the residential nature of the neighborhood and include: prohibitions on signage visible from the street; restrictions on noise and parking; and the requirement that only residents of the home may work for the business.
The inspector was available within a week to perform the home inspection. All went relatively smoothly, apart from the fact that the inspector reserves the right to show up between 8 a.m. and 4 p.m., with a $162 reinspection fee if you miss the appointment. I will avoid making any direct comparisons to my cable company. A successful inspection results in the issuance of a certificate of use. The certificate of use is necessary in order to submit a "business tax application" with the city. For a home based business, the annual city tax is $157.50. The one time cost of the fire inspection was $100. Our county also imposes an annual tax of $45. When all is said and done, the total start-up cost/taxes paid to the state, city and county was $427.50.
My other start up expenses will be a print advertising budget and computer software upgrades for the latest versions of Adobe Illustrator, Photoshop and After Effects.
Networking and Business Model
South Florida is ground zero in the housing downturn. In this difficult environment, my goal is to provide affordable, high quality graphic design services to businesses that are interested in creating an effective corporate identity and branding strategy. I will also have a secondary focus on schools and charities that unfortunately are increasingly required to engage in round the clock fund-raising. Because my operating costs are negligible, I am prepared to work for an economical fee in order to get my name out in the community. Another selling point for the new business is that I have a flexible schedule and can provide a quick response time if needed. Since the business is ultimately a service oriented occupation, I recognize that 100% customer satisfaction is essential.
Working closely with our neighborhood schools and family members who are teachers, I have discovered that the objectives of a school or charity's fund-raising can be different from the objectives of a for-profit business. As a general rule, a business uses advertising and graphic design to attract customers. A business will give away for free promotional items such as pens, mugs and almost any other kind of functional object that can display a logo or advertisement. By contrast, a school or charity will raise funds by selling ever more elaborate and creative items such as t-shirts, clothing, backpacks, water bottles, key chains, magnets and any kind of novelty item upon which a motto, image or mascot can be emblazoned. For-profit business, schools and charities all need attractive banners, fliers, brochures, mailers and other advertisements to sell/promote their product, service, events or activities. I have networked with a prominent national educational supplier, publisher and printer to provide extremely cost competitive apparel and promotional items for clients at whole-sale prices.
One initial challenge is to convert the charities, school and related organizations that I have provided free design services for into paying customers. Hopefully, as the market turns around, this will become possible. Charity is of course valuable in its own right. I am learning that as a side benefit, it also provides meaningful exposure and access to businesses and members of the community who will also become customers.
In addition to my experience and bachelor's degree in graphic arts and illustration, I can partner with my sister who is a successful fine artist with her own company. Between the two of us, we can cover the spectrum from commercial art to fine art and web design.
Family Dynamics
Making money is the goal of any business. Admittedly, as a stay at home mom, I have competing objectives. Ideally, my plan is to work primarily during school hours and after the kids have gone to sleep at night. This can create as yet unexplored personal dynamics within the family as "Mommy" re-enters the labor market. Thankfully, prior to starting the business, I have never had to sacrifice as a stay at home mom. I can only hope that this balancing act will not present too many challenges for the family. So far, the children are excited about Mom's new business cards and seeing her advertisements, designs and shirts. I am also thankful that my husband and family are available to provide support and encouragement.