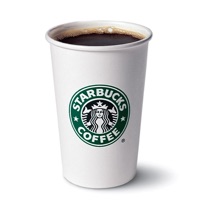 Promotion back again starting 11/29. A recent study found that free pizza was a better motivator than cash. How about some free coffee?
Starbucks is again offering a free $10 bonus Starbucks eGift card if you use the Starbucks smartphone app to load a minimum $10 onto your Starbucks Card using Visa Checkout as your payment method. Details:
Download the Starbucks® app and create a Starbucks Rewards™ account.
Existing Starbucks® app users: Simply go to the "Pay" section of the app to get started.
Reload $10+ in the Starbucks® app with Visa Checkout (sign in/sign up link below).
Receive your $10 Starbucks® eGift within 1 day courtesy of Visa Checkout.
Valid between 11/29/16 and 12/22/16, or while supplies last. Usually if they run out of free codes, they will take down the offer page. However, if you're interested I'd take advantage of this offer as soon as possible.
Qualifying customers will see the $10 Bonus Load in the form of an emailed Starbucks eGift card within 24 hours. (Update: I got my $10 bonus within 8 hours.) You will not see any mention on your initial $10 load receipt. You can check which Visa card is linked to your Visa Checkout by going through the "Add card with Visa Checkout" button.