If you are currently out of or nearing the end of your cell phone contract, be sure to consider the Sprint Employee Referral Offer, or SERO, plan. Although it has been heavily discussed for a while on many cellular enthusiast forums, actually getting on the plan used to require a referral from a Sprint Employee (duh), some smooth-talking over the phone, or the "borrowing" of a random employee e-mail from the internet. However, right now they have opened it up to the public, and I have gone ahead and jumped on it myself as it probably won't last forever. Here are my experiences:

How to order
» Visit the Sprint SERO site.
» Type in either "savings@sprint.com" or "savings@sprintemi.com" in the box for Sprint Employee E-mail Address, along with your zip code.
» You should be greeted with the default offer shown to the right. However, you can choose from a variety of phones and plans to suit your needs and do all the ordering online. (If you don't, the e-mails may have expired.)
» When you order, please note that you will be subjected to a hard credit pull just like with other carriers.
The plans all include such perks as free long distance, unlimited Sprint mobile-to-mobile, Unlimited Weekends and Nights starting at 7pm, and unlimited Power Vision (web, IM, e-mail). If you talk enough to make a prepaid plan too expensive, 500 anytime minutes for $30 plus taxes seems like a very good price. Two-year contract required, no activation fee.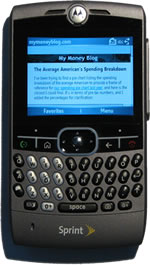 Phones
The prices on phones are sometimes a good deal, but not always cheaper than other places. Although I have seen them offer free phones, I think they start at $20 now. You can compare with other sites, taking into the account the monthly savings on this plan.
I splurged and bought the Motorola Q for $100 because, well, I'm a geek and wanted to take advantage of the free data! Unlimited data alone costs $20-$50 a month on other carriers. It's not quite a Treo and there is no touchscreen, but I can check my e-mail and also internet in a pinch. It's quite thin, and overall I'm very happy with my new toy. 😀
Service
Although they do send it out via 2-Day FedEx, it took me about a week before they actually shipped my phone. However, there is a status website that keeps you relatively well-informed. It should be noted that InPhonic (WireFly.com) is the outsourced provider that you'll actually be dealing with during the initial purchase, not Sprint. They aren't the best from what I've read, so if you are going to port your existing number, it may be a good idea to do it yourself through Spring customer service once you've gotten the phone. It took me only minutes and I just needed my old account number. In the meantime, they'll just assign you another number.
As for Sprint's service, they've been very good so far. My hold times have been pretty short, the CSRs have been nice. Coverage will vary for everyone, but mine has been adequate. There is also a 30-day guarantee just in case it isn't.
Other notes
» You can still add any corporate or student discounts to your plan, bringing the overall price down even lower. If you are a student, call 1-866-853-4931, hit 1, and ask about your specific university. I ended up with 10% off.
» You can't add a cheap 2nd line on these plans. This is important to note for non-single folks, because our old Cingular family line plan was actually very comparable to the SERO price. We used to share 800 minutes for $68 total a month after discounts. Now we have 500 minutes each for about $64 total per month. ($30 x 2 – 10% discount + $5 taxes per line.) The only real difference in service is the free data.
» If you experience a dropped call, you can dial *2 on your phone, say "dropped call", and they will credit 50 cents on your account.
» After you get the phone, you can also call in for a free $25 debit card if you give them your new phone number and another referring person's Nextel/Sprint PCS number. The other person will get $25 too. I referred my wife and we both got $25. If would like a number to use for a referral, you can contact me with your new cell phone number.
For more information, you can join the (long and often tedious) ongoing discussions at SprintUsers, Slickdeals, Fatwallet, or Howard Forums. If you are currently in a Sprint contract, you may want to read this post for some tips.