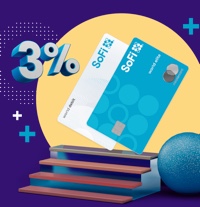 SoFi has another new promotion if you have the SoFi Credit Card and SoFi Checking/Savings and a qualifying Direct Deposit every month: 3% cash back for 1 year (365 days) on a maximum of $12,000 of purchases ($360 in rewards).
After the cap of $12,000 in purchases that will earn 3% cash back (36,000 points redeemable for $360 in total rewards), it will revert back to the standard 2% cash back rate. That means you'll really only earn a max of $120 more than you would have otherwise at the standard 2% cash back rate. Still, not bad as the products are already competitive without any promos (1.25% APY on up to $150,000 with any direct deposit, 2% cash back on purchases).
1) You will need to maintain a qualifying Direct Deposit every month with SoFi Checking and Savings in order to continue to receive this promotional cash back rate. Qualifying Direct Deposits are defined as deposits from enrolled member's employer, payroll, or benefits provider via ACH deposit. Deposits that are not from an employer (such as check deposits; P2P transfers such as from PayPal or Venmo, etc.; merchant transactions such as from PayPal, Stripe, Square, etc.; and bank ACH transfers not from employers) do not qualify for this promotion. A maximum of 36,000 rewards points can be earned from this limited-time offer. After the promotional period ends or once you have earned the maximum points offered by this promotion, your cash back earning rate will revert back to 2%.