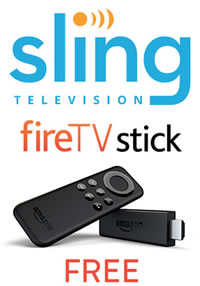 Updated review after 3 months of using Sling TV. Promo still live for a couple more weeks. Sling TV allows you to stream a package of major cable networks live over the internet. That means you can watch it on your smartphone, your home TV, or your laptop. No cable subscription required. Here are the channels included in the base package that runs $20 a month:
ESPN (live sports!)
ESPN2
CNN
Food Network
Travel Channel
HGTV
Cartoon Network
TNT
TBS
Cartoon Network
Disney Channel
ABC Family
Right now, if you commit to prepaying 3 months of Sling TV ($60 total), you can get any of the following deals:
That's a $39 to $50 savings, depending on the deal, if you were looking for a modern streaming device. You must redeem the promotional code by June 5, 2015.
Alternatively, if you sign up at Sling TV directly first, you can get a free 7-day trial to see how it works for you. If are then ready to commit, then I would sign up for this Amazon promo using a different e-mail address as it says "new customers only".
My 3-month user review of Sling.
Quality isn't bad; my internet is only 15 Mbps on a good day but we usually don't have more than one thing streaming at any given time. It looks especially crisp on my iPhone.
I've had a couple of crashes while channel surfing. This is on the Mac OS X desktop app.
You can't choose to record shows for later viewing. It doesn't work like a DVR. However, on select channels you can get limited replay of past episodes. From their site:


Sling TV includes a 3-day replay feature that allows you to watch shows that have aired in the past three days on the following channels: HGTV, DIY, Travel Channel, Cooking Channel, Food Network, Galavision, El Rey, Univision Deportes, Universal Sports, and beIN Sports and we expect this list to grow. Sling International customers can enjoy exclusive 8-day replay on all international channels.

On the non-replay channels (including ESPN, ESPN2, ABC Family, TNT, TBS, Disney Channel), you can't even pause a show for a few minutes and pass the commercials later, or have it blip back 10 seconds if you missed something. On the other channels listed above (Food Network, Travel Channel, etc), you can pause and blip backward. I was surprised how often I would try to click the pause button, with no response. Boo.
There is no contract and it is easy to cancel online under your account details. It just took a few clicks and 30 seconds. No calling in required at all, which means no Comcast cancellation nightmares. Note there are no refunds the 3-month prepay offer above. You can reinstate your account easily as well, similar to Netflix.
I did this free streaming stick promo, but after the 3-month comittment I cancelled my Sling subscription mostly due to the lack of DVR ability on all channels. I've had a TiVo since roughly 2005 and over the last 10 years, I have completely lifestyle-inflated myself such that I just can't watch old-school TV anymore. It was too annoying not being able to pause a show, skip commercials, record a show, or blip backwards. I don't watch that much TV, but when I do, I want it to be on my terms. (You may feel differently!) Now I primarily just stream kid stuff like Sesame Street via Amazon Prime Video.