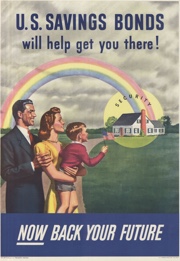 Here's a timely reader question about Series I Bonds. It's a good question because I predict that Series I Bonds will be soon getting even more media attention soon due to an even higher inflation-linked rate.
Would it be best to wait till November 1st to purchase I bonds? You mentioned the fixed rate will probably confine at 0. but what about the semiannual inflation rate? Do u think it is likely to be more than 3.54%? I'm new to this please educate me.
Series I Bond rates react every 6 months to delayed inflation reports from the Bureau of Labor Statistics. August CPI-U was already reported in mid-September, and September CPI-U will be reported in mid-October. 5 out of 6 months of data are already in the books, leaving only one month of data left. The 12-month trailing inflation rate as of that August CPI-U update was over 5%. Therefore, unless that data contains a significant amount of deflation, we already know that the next inflation rate on Series I Bonds is going to be higher than the 3.54% from May to October 2021. I roughly estimate the range that the next inflation rate will be between as 5% to 7%. That should be enough accuracy to make a purchase timing decision, earlier than my usual practice of waiting until mid-October.
If you buy in September or October 2021, you will receive a total rate of 3.54% for the first six months, then the "new" (estimated 5%-7%) rate for the next 6 months, and then new rates adjusted every six months for inflation onward.
If you buy in November 2021, you will receive the "new" (estimated 5%-7%) rate for the first 6 months, and then new rates adjusted every six months for inflation onward.
The takeaway is that either way, you will earn the "new" rate (estimated 5%-7%) eventually. If you buy in September/October, you'll just have to wait a bit due to the staggered structure. Given that the current rate of 3.54% is still a higher interest rate than nearly any other savings account or CD is paying, I would personally just invest now if I had the cash ready and waiting. Also remember that Series I Bonds do not allow early withdrawals within the first 12 months after purchase date. As long as you complete your purchase by the end of September, it will count as purchased in September 2021 and you will be able to withdraw as of September 1st, 2022 (though subject to a penalty if held less than 5 years). It may take a little bit to set up your TreasuryDirect account, and it may take a couple business days for the withdrawal and purchase to process, so I wouldn't wait until the last day.
Annual purchase limits. The annual purchase limit is now $10,000 in online I-bonds per Social Security Number. For a couple, that's $20,000 per year. You can only buy online at TreasuryDirect.gov, after making sure you're okay with their security protocols and user-friendliness. You can also buy an additional $5,000 in paper I bonds using your tax refund with IRS Form 8888. If you have children, you may be able to buy additional savings bonds by using a minor's Social Security Number.
As noted in my previous savings bond posts, these Series I bonds are a unique investment opportunity in that they are only available to individuals and are subject to purchase limits. Even if the real yield (fixed rate) is set at zero, that is still significantly higher than that of TIPS that trade on the open market (well negative across the board!). If institutional investors like pension funds or endowments could buy I bonds like you and me, they would buying billions of them.
I plan to purchase up to my annual purchase limit for 2021 as part of my asset allocation to inflation-linked bonds, although you can start with as little as $25. I guarantee that there will be many more articles about Series I bonds in mainstream personal finance sites in November after the new rate is officially announced.