Given recent events, I suppose I should take a look at how my investments are doing. I am also planning to make some large-ish 401k contributions and need to figure out which asset classes to buy in order to rebalance my portfolio.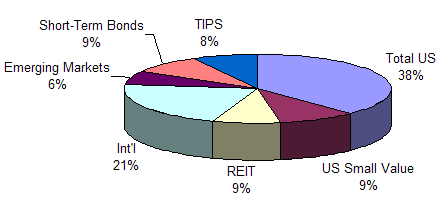 Retirement Portfolio
Actual
Target
Asset Class / Fund
%
%
Broad US Stock Market
38.8%
34%
VTSMX – Vanguard Total Stock Market Index Fund
DISFX – Diversified Stock Index Institutional Fund*
DODGX – Dodge & Cox Stock Fund*
US Small-Cap Value
9%
8.5%
VISVX – Vanguard Small Cap Value Index Fund
Real Estate (REITs)
8.4%
8.5%
VGSIX – Vanguard REIT Index Fund
Broad International Developed
21%
25.5%
FSIIX – Fidelity Spartan International Index Fund*
VDMIX – Vanguard Developed Markets Index Fund
International Emerging Markets
6.5%
8.5%
VEIEX – Vanguard Emerging Markets Stock Index Fund
Bonds – Short-Term
9%
7.5%
VFISX – Vanguard Short-Term Treasury Fund
Bonds – Inflation-Indexed
8%
8.5%
VIPSX – Vanguard Inflation-Protected Securities Fund
Total Portfolio Value
$105,654
* denotes 401(k) holding given limited investment options
Contribution Details
Throughout 2008, my wife has been making regular salary deferrals to her 401k, and has recently reached the annual $15,500 limit. I plan to start contributing to my Self-Employed 401k plan shortly.
YTD Performance
The 2008 year-to-date time-weighted performance of my personal portfolio is -27.9% as of 9/18/08. In fact, despite sizable additional contributions, my portfolio is down over $10,000 since my last update in April. Today might have been a bad day to run these numbers… 🙂
Although not necessarily a benchmark, the Vanguard S&P 500 Fund has returned -20.07% YTD, their FTSE All World Ex-US fund has returned –29.74% YTD, and their Total Bond Index fund is up 2.71% YTD as of 9/18/08. (My emerging markets fund is down nearly 40%!)
Rebalancing Details
First of all, I am not changing my asset allocation or moving into safer investments. In fact, I am doing the exact opposite and buying what has been dropping the most…
I am still following the general asset allocation plan outlined here, with a 85% stocks/15% bonds split [115-Age]. Here is an example of how we implemented the asset allocation across multiple accounts, although I've since moved some funds around.
So, it looks like I need to buy more Emerging Market and Broad International. I am now a bit overweight in Bonds and Broad US, so I need to sell those. Due to the limited index fund choices in my Fidelity Solo 401k account, I may start buying ETFs if I can justify the $10.95 commissions.
You can view all my previous portfolio snapshots here.