Finally got around to adding up the numbers for the last month: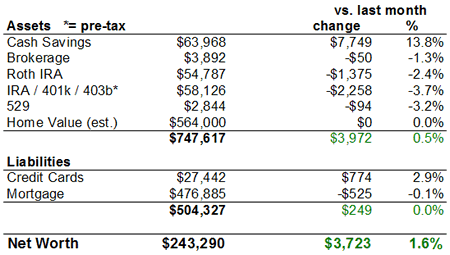 Credit Card Debt
If you're a new reader, let me start out as usual by explaining the credit card debt. I'm actually taking money from 0% APR balance transfer offers and instead of spending it, I am placing it in high-yield savings accounts that actually earn 3-4% interest or more, and keeping the difference as profit. Along with other deals that I blog about, this helps me earn extra side income of thousands of dollars a year. Recently I put together a series of step-by-step posts on how I do this. Please check it out first if you have any questions. This is why, although I have the ability to pay the credit card balances off, I choose not to.
Retirement and Brokerage accounts
The bad news is that the market value of our investments went down over $3,500. And this is despite my wife being able to finally max out her 401k for 2008 (total of $15,500 as of this month). At least I don't own much Fannie Mae stock…
The good news is that I am finally ready to make some big contributions to my Fidelity Self-Employed 401k, at the same time that the markets are near their 2008 lows. Buy low, sell high! Why now? I like to wait because my income fluctuates and this way I have a clearer idea of what my contribution limits will be, as they are based on gross income.
Cash Savings and Emergency Funds
Our mid-term goal was to have six months of expenses ($30,000) in net cash put aside for emergencies. This is now done. As mentioned, future cashflow will be put towards retirement accounts. Speaking of emergencies, with all these hurricanes, I have been checking out portable generators as well.
Home Mortgage
Another ~$500 of loan principal paid off. Housing prices are still dropping in my area. I will probably have to adjust my home value estimate in the future, a short-term goal might be to pick a simple benchmark to follow. After a few other financial priorities are taken care of, perhaps I'll start a DIY biweekly mortgage plan.
We had some visitors and took a tiny bit of vacation this month, so it was a nice end to the summer. You can see our previous net worth updates here.