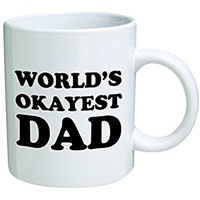 I've been told that my blog isn't personal enough. Father's Day seemed like an appropriate time to share how our efforts towards financial freedom have altered our day-to-day lives.
Guiding principle. When I first started chasing the idea of "early retirement", it was mostly about escaping the chains of a 9-5 corporate job for the next 40 years. These days, I am driven primarily to avoid the most common deathbed regret:
I wish I'd had the courage to live a life true to myself, not the life others expected of me.
This is beautifully phrased, as it will mean something different to everyone. You have to push away the expectations and noise coming from society, your co-workers, even your friends and family. Some people call it mindfulness or meditation, I just call it that quiet voice inside you. Another good take on this from Anthony Bourdain:
It's a quality-of-life issue with me. Am I having fun? Am I surrounded by people I like? Are we proud of what we're doing? Do we have anything to regret when we look in the mirror tomorrow? Those things are huge to me.
Choosing semi-retirement over daycare. Up until 2012, my wife and I were dual, full-time earners with a healthy savings rate used to steadily accumulate assets. We spent our free time eating at new restaurants, traveling, hiking, skiing, and playing with our two dogs.
When our first child arrived, we weren't quite ready to live off our investments but we still wanted to spend a lot of time raising our kids. We decided that we would both work roughly 20 hours a week ("half-time") and share the stay-at-home parenting duties between us. Technically, we both semi-retired at age 33. At the same time, it was nothing to brag about because many families have a single income parent and a stay-at-home parent. We just happen to split it up. Today, we continue as 50/50 parents and somehow accumulated three kids: a 6-month old, a 2-year-old, and a 4-year-old.
For a many couples, it is simply financially efficient to keep working full-time and pay for daycare. For others, both individuals want to maintain their career trajectory. Both are a valid options and we don't pass judgment. For us, giving up essentially one full income was also a big decision. We were concerned that we would be giving up current income now and likely stall our future career growth.
Ever since growing up as kid with a dad working long hours, I made a promise to be different when I had children of my own. I never want to utter the words "I wish I spent more time with my kids". As a direct result of our aggressive savings rate in our 20s and early 30s, we felt comfortable taking an unconventional path. We are thankful every day that we don't have to drop off our baby at 7am, work all day, come home, and only see them for an hour before bedtime.
Snapshot of our daily lives. We are not the most frugal family, but again we try to live aligned to our values. Our home is not overly big – two girls already share a bedroom and eventually all three will share one bathroom. We cook dinner at home more often than not. We rarely eat out. Our frequent flyer points are mostly idle nowadays, but we did take our 1-year-old and 3-year-old to visit the UK and France last summer. One of the highlights was feeding free-ranging reindeer in Scotland.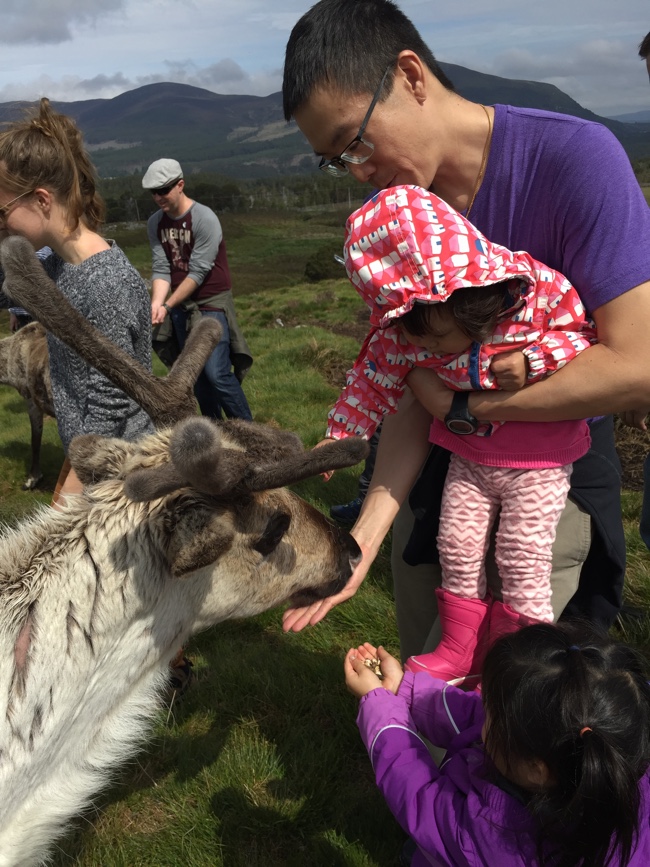 Is semi-retirement all sunshine and rainbows? Yes, we've never had to deal with daycare or hire a nanny. Either my wife or I have been there for every single bathtime and bedtime. One of us has been present for all the first laughs, first words, first crawls, and first steps. But we also feel physically exhausted at the end of every day. I'm definitely more worn out now than our time as DINKs (dual income, no kids).
You really start to appreciate working with adults again after wrestling with three little tyrants children under the age of 5. Yesterday, my oldest child decided to stick her finger down the youngest's throat. Guess who got to clean up projectile vomit off a shockingly-high blast radius? I'm pretty sure the comic Fowl Language installed a hidden camera inside my house (check out the book as well):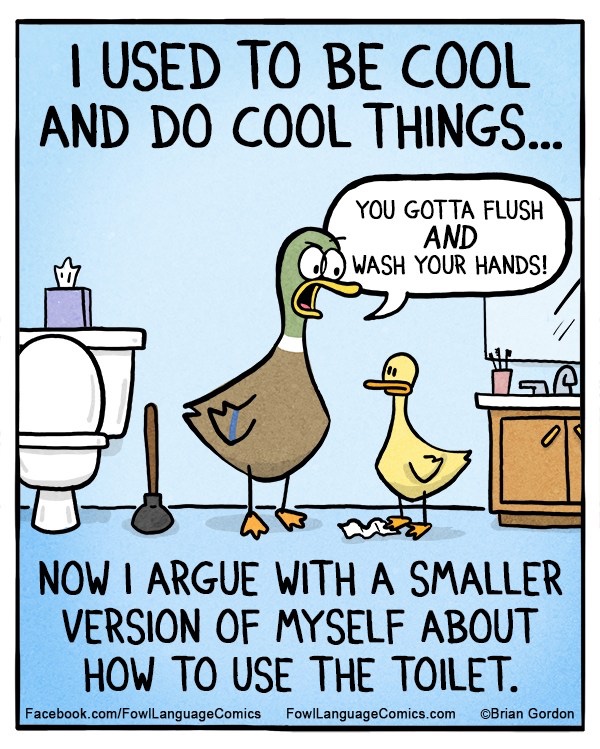 There is a huge difference between doing something difficult and aligned with your personal values, and doing something difficult and not aligned with your personal values. Sure, we could spend our free time doing a million other easier things. But perhaps happiness is being able to choose your hard thing and then spend your time working on it. For now, parenting young children is my hard thing. I'm not terribly good at it, but I try… This is a precious time and I want to savor it before it ends.
You may think I'm crazy. That's okay. Remember, the point is to live a life true to yourself and ignore what other people think. Now excuse me while I clean the vomit stain off my shorts.