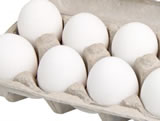 I just noticed that PortfolioCharts.com has updated their Withdrawal Rate Calculator. It has improved visualizations and as a personal finance geek I even found it fun. You can enter your specific asset allocation slices down to 1% and see customized results.
The Withdrawal Rates calculator shows the safe withdrawal rate for any asset allocation over a variety of retirement durations based on real-life sequence of returns. Those looking to retire early or leave money to heirs can also see the perpetual withdrawal rate that protected the original inflation-adjusted principal.
You can read about the specifics behind these improvements here. You should also read all the assumptions here. For example:
The withdrawal rate is the percentage of the original portfolio value used for one year of retirement expenses. Each year, expenses are adjusted for inflation (not for portfolio size) to maintain constant purchasing power.
Briefly, a "safe" withdrawal rate (orange) allowed a portfolio to go as low as $1 but never hit zero at the end of the timeframe. In other words, the ride could have still gotten quite hairy for a while. A "perpetual" withdrawal rate (green) never ended up less than the initial principal, even adjusted for inflation. The author Tyler recommends the perpetual WR for early retirees or for people who desire to leave an inheritance for heirs.
Here is the specific chart for my current portfolio asset allocation: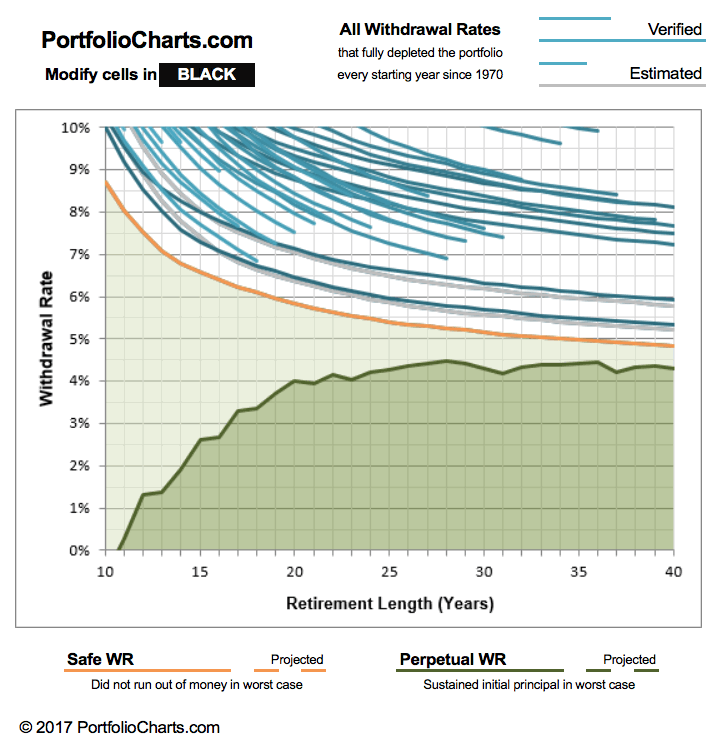 I would be quite happy with being able to confidently withdraw over 4% (+ inflation adjustments) of my portfolio for the next 40 years. The short-term drawdown paths can still be scary though. The usual caveats with using backtested data also apply.
Playing around, I noticed that the simplest way to change things up was by adding a healthy chunk (~20%) of gold instead of stocks. This seemed to significantly improve the perpetual withdrawal rates in the short-term (0 to 15 years). It's too bad I still don't have a firm fundamental understanding of gold. If you can't maintain faith in it when things are scary, then you shouldn't own it in your portfolio.