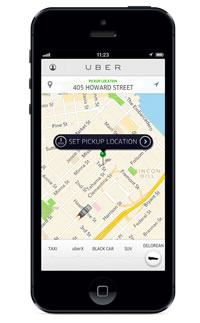 Forget borrowing money to buy a car, the concept of owning a car itself is changing. Owning a car requires committing to a long list of expenses:
car payment and value depreciation ($1,000+ a year)
car insurance premium ($500+ a year)
fuel costs ($600+ a year)
government tax, registration, and fees ($300+ a year)
maintenance and repair costs
parking, traffic tickets, and tolls
In rough terms, owning a car runs at least $3,000 a year with most people spending more than $5,000 a year. Consumer Reports calculates the median at $9,000 a year over the first 5 years for new car buyers.
As a couple with two cars, I've been thinking about trying to get by with one car in the household. Even besides public transit, consider all the car-based options that may be available:
Renting a car, but driving ourselves. (ZipCar, RelayRides)
Being driven around by other people who rent or own cars. (taxis, Uber, Lyft)
Being driven by autonomous robotic cars. (Google or major auto company)
After recent positive experiences with Uber and reading about the advancements in self-driving cars, I now believe that within the next 10 years we will shed at least one car. (I doubt I would want to go completely carless with two kids and all their activities.) Some food for thought on the subject:
Of course "the math" depends on where you live and how you drive, but even small to medium cities will be affected. Uber now has UberFamily (car seats) and UberPool (multiple passengers heading the same direction). Now look at self-driving car technology. If I buy a self-driving car, that's really just another convenience/luxury that costs me more money. But what happens when Uber and Lyft don't have to pay drivers? (Robots taking jobs again!) Fares will drop even further.