[This is Part 2 of an ongoing series about how to make money from 0% APR balance transfers.]
Now that you've read my introduction and warnings about 0% balance transfer offers, let's try to find some suitable deals. First, some definitions:
A balance transfer is traditionally the transfer of a debt balance from one credit card to another. However, there are various direct and indirect methods to convert this into cash inside a bank account. It is usually for larger amounts, up to almost all of the credit limit on the card.
A cash advance is often similar, but not identical. Usually, this is for smaller amounts (your card may list a special "cash advance limit") and comes to you directly as cash. If you use a PIN with your credit card at an ATM or bank branch to receive cash, this is considered a cash advance. Cash advances usually have the highest interest rate, and are almost always to be avoided.
A purchase is pretty familiar to everyone and just that, when you are getting services and/or goods with your credit card. Some credit card companies reserve the right to reclassify purchases of cash-equivalents (such as traveller's checks) as cash advances.
The reason why it is important to note the difference between these three terms is that in the fine print of your credit card agreement, these three things can be treated totally differently. That brings us to the fine print. This is the guts of any balance transfer offer, and can usually be found in small print on the back of physical applications, and via a links that says Terms and Conditions on online applications. It's meant to be hard to find, but it is critical to find it.
As a working example, let's take the first card on my Best of 0% APR Offers list – the Citi Professional Cash Card. I do a quick scan of the application, and note that they are also offering a permanent 3% cash bank on restaurants, gas stations, certain office supply merchants, and for auto rentals. I'll discuss this later.
Then, click on the Apply Now button. You should see this: On the initial application page, you see this: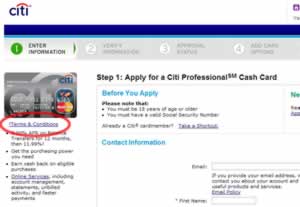 Now click on Terms and Conditions (circled above). Every online application should have a similar link. If you have a physical Terms and Conditions sheet, save it. If you have an online version, print it out or print to a PDF. Here is an example PDF. It takes just seconds but gives you peace of mind. Then either tuck it away or e-mail it to yourself.
Ok, now we have the T&Cs. I usually do the following online – hit Ctrl-F and search for the term "balance transfer". The Firefox web browser has a nice feature where you can highlight every occurrence. I also do this for the term "fee". For paper versions I just do this by skimming. You get good at it after a while 🙂
Doing this alerts me to the following pertinent sentences:
Annual fees – None.
Balance transfer APR: As long as balance transfers are completed within 12 months from date of account opening, 0.00% for 12 months from date of first balance transfer . After that, 11.99% variable.
Cash advance APR: 20.99% variable.
Default APR: 29.99% variable. See explanation below.*
Balance transfer fee: 3% of each balance transfer; $5 minimum. There is no fee with the 0.00% APR balance transfer offer described above.
Here is a screenshot that I took:

So there is no balance transfer fee with the 0% APR offer. Sweet.
But, the purchase APR is at nearly 12% APR. Remember, since your payments always go towards the balance at the lowest interest rate, if you request a 0% balance transfer all your payments would go towards that. So you can't take advantage of both the 0% on balance transfers and the cashback program. Here I'd do the 0% for 12 months, and then after that is over I'd keep the cards for the 3% back on restaurants.
Annual fees. This should be zero or at least waived for the first year during the 0% period. I only tolerate annual fees for excellent rewards cards like the Starwood American Express Card. In this case, it is zero.
Balance Transfer APR and Length – Obviously, lower is better and 0% APR is best. 0% is usually for a limited time, anywhere from 3 months to 15 months. Anything over 9 months catches my eyes. Here it is 0% for 12 months, which is very good.
As interest rates rise, 0.99% or 1.99% might start to look good as well when you can make 5-6% at the bank. But remember, you pay taxes on the bank interest, and you cannot deduct credit card interest. So if you make 6% but are in the 25% tax bracket, you end up with 4.5%. If your credit charges 1%, your profit margin is 3%. Still not bad depending, but perhaps you could do better elsewhere.
Update: Interest charged for money used for investment purposes can be tax deductible if you document it properly. So in my previous example if you the bank is paying 6% and your credit card is charging 1%, if done right you can deduct the 1% on your taxes and get taxed only on the 5% margin (3.75% net if taxes are 25%). I'm no tax expert, so consult your accountant for details.
Balance Transfer Transaction Fees – Again, lower is better and best is zero. 3% is common, but the caps are what I focus upon. For example, there may be a cap of $75 on balance transfers not part of the promotional offer.
If you transfer $5,000, you pay $75 or 1.5% of balance.
If you transfer $10,000, you still pay $75 or 0.75% of balance.
If you transfer $20,000, you only pay 0.375%.
If there are no caps, that indicates a bad deal. 3% upfront is usually too much to overcome and you can do better. Caps $75 and under get a closer look from me. But again, in this case, there is no balance transfer fee. Nice!
The rest – Okay, those three things are my primary screens. If those aren't satisfied, into the shredder it goes. Some credit cards make you have a purchase each month to keep the low rate, often for the "0% for life" deals. Keep in mind purchases get their own APR, and all payments go towards the balance with the lowest interest rate. Now, there are tons of other stuff on there, but I personally don't pay too much attention to them. Here are some examples:
APR on Purchases – 0% on purchases are great and add flexibility to the account, but I usually only make purchases on separate cards to get 2-5% cashback. They can be useful if you make a lot of purchases.
Default APR, APR on Cash Advances, Late Payment Fee, etc. – I don't plan on ever paying any of these, and they are all very similar across all credit card companies, so I gloss over them. For a good run down of these other fine print details, check out this post at StopBuyingCrap. One thing to note is the Universal Default Clause, which basically says that you get the crazy-high default rate if they find out you pay any creditor late. Utilities usually don't report to credit bureaus until you are over 30 days late, but credit card companies report it pretty much as soon as you are late.
Balance Transfer / Cash Advance Checks
For an existing account, you may get checks in the mail offering 0% APR or similar as well. You should be very careful as to whether these are classified as cash advances or balance transfers by your credit card companies. After that, repeat the steps above to see if it's a good deal. It can be tricky, you may get four checks, and the first two have different terms than the last two! In addition, some checks say that if you write it to yourself, it is a cash advance, but if you write it to someone else, it's a balance transfer.
Too much! I'm Lazy, Can You Do This For Me?
Sure, as mentioned above I have composed a list of good pre-screened no annual fee, no balance transfer fee, 0% APR offers. I will keep this list updated regularly.
Yes, talking about fine print is as fun as watching paint dry, but it's a necessary step to ensure maximum profit. My next post is about the application process and actually getting the borrowed money into your bank account.
—
Skip To Another Part
I. Introduction and Warnings About 0% Balance Transfer Offers
II. Scouting For 0% Balance Transfer Offers
III. Application Tips and Getting Cash From 0% Balance Transfers
IV. Setup And Management of 0% APR Balance Transfers
V. Best Pre-Screened No Fee 0% APR Balance Transfer Offers