Another startup designed to encourage people to save more is SaveUp.com. The inspiration came from a new economics idea called "Prize-Linked Savings". People tend to like lotteries, even though they are mostly a losing proposition. So what if you effectively gave out lottery tickets in exchange for saving money instead? If you think it sounds like a Freakonomics idea you'd be right.
First, you have to link up your financial accounts like banks, credit cards, and student loans (yep, usernames and passwords). Next, whenever you perform a positive activity, you earn credits towards prize drawings for $100 gift cards up to a $2 million prize. For example, every time you increase your savings account balance by $1 earns you one credit, and every $1 that you lower your debt earns you one credit. There are also various small challenges: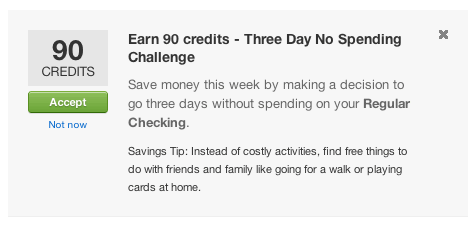 How does SaveUp make money then? Here's a snippet from their press release:
SaveUp's prizes are furnished through advertising and sponsorships with top consumer brands, including Virgin America and others. SaveUp's brand partners receive significant exposure to a highly aspirational audience through frequent brand placements, exclusive content or category ownership, social media linkage, and the ability to offer coupons, promotions and other exclusive deals to SaveUp users on the site.
Data aggregation service is provided by Intuit (owners of TurboTax and the popular Mint.com). SaveUp.com is currently offering 100 bonus credits to My Money Blog readers for joining (it's something, but don't get too excited as it's not that much). I opened an account and have been playing with it… the overall user experience is smooth and I do get a little "scratch-off ticket" buzz. I've put all my credits towards the drawing for the $100 Home Depot gift card. Daddy needs a new Makita hammer drill… but I'm afraid if I don't win anything in a couple weeks I'll probably get bored. :/