Earn more. Save more. Those are the two ways to get out of debt and build wealth. I'm a big proponent of doing both, but for many people it may be easier to cut back on some luxuries rather than land a higher-paying job, start a side business, or become an investing wizard. It's also more effective due to marginal tax rates. Let's say you are single resident of California and your (taxable) gross income is $50,000 a year.
If you were to go out and earn another dollar as an employee, here's how that additional $1 would get broken down: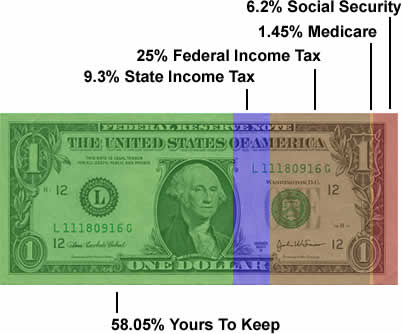 You'd only keep 58 cents. On top of that, a lot of extra or freelance work is done as an independent contractor. That means you're self-employed and get the happy task of paying another 7.65% of payroll taxes (the employer share), which brings your total tax hit to 49.6%! So in order to keep $1 in your pocket, you'd have to get someone to pay you $1.99. In that case, your choice becomes:
This relationship helps me visualize the power of spending less. Now when you save $1, you can feel good knowing that you'd have to have earned $2 of income to equal that. But on the flip side, when I get a check from a side project for $500, I know I'll only keep $250 of it. 🙁

The Small Print
This is a specific example, your tax situation may vary. Also note that this isn't the average tax rate on all your income, but for the next $1 you might earn "at the margin".
You might get a portion of your Social Security or Medicare taxes back in the future, even though your taxes aren't being saved or invested anywhere; it's being paid out immediately to current retirees.
Some states don't have an income tax, but may have higher sales tax or property tax rates to generate that revenue. But remember, a sales tax is basically a tax on income that you spend!
You're allowed to deduct half of your self-employment tax from your adjusted gross income, which saves you a bit in taxes.