Sorry for the lack of posting, I am actually at a conference in Park City, Utah this week. Add in that fact that my computer is now giving me the blue-screen-of-death, and I've been somewhat disabled. Looks like it's time for a fresh Windows install. The good thing is that I've been able to tune out all the Obama stimulus talk until they finally pass something, and instead catch up on a bunch of financial books and magazines that I've been meaning to read.
While flipping through a Money magazine, I ran across a often-repeated piece of advice about buying an HDTV: that the size of the TV you should buy is determined by how far you plan on sitting from it, not just bigger is better: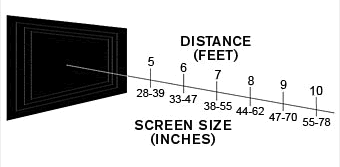 Which always begs the question – why not just put your couch closer to your TV? 🙂 You could buy a much smaller set and save hundreds of dollars. I guess it's just another by-product of buying a house that's too big. You need more furniture to fill it, and now also a bigger TV to see from across the room.
In addition, doctors now say that sitting too close to the TV is not bad for your eyes. Well, I guess it can't be worse than most of us sitting inches away from an LCD screen all day long already.