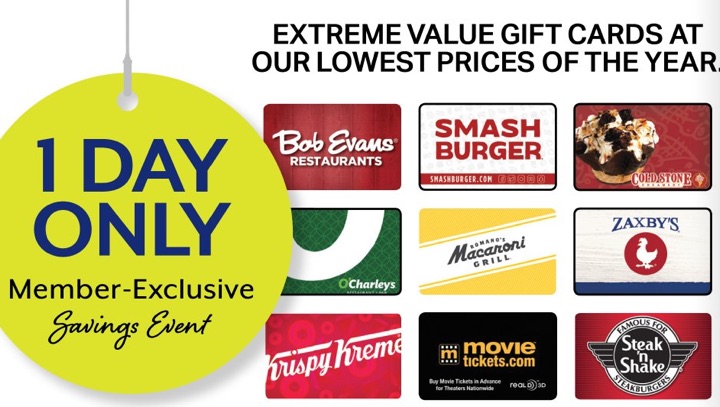 Sam's Club is having a one-day sale on Saturday, November 10th. There are the usual discounts on huge TVs and the latest Apple products, but what caught my eye was that all of the "Extreme Value" gift cards that are usually $40 for $50 face value or $80 for $100 face value will be discounted to $35 for a $50 face value or $70 for $100 face value gift cards. These are mostly food gift cards that vary by geography, but I see 186 gift cards options online. Some examples include:
Chili's
Steak 'n Shake
Build-a-Bear Workshop
California Pizza Kitchen
Jamba Juice
Krispy Kreme
Papa John's Pizza
Smashburger
The Old Spaghetti Factory
Coldstone Creamery
Bonefish Grill
In my mind, this 30% off gift cards sale is an easy way for those that hate shopping to knock out their holiday gift list in one fell swoop. Gift cards can seem impersonal, but surveys keep showing that people like getting gift cards! I certainly wouldn't complain.
Don't have a Sam's Club membership? Consider this Sam's Club Groupon deal that offers the following for $35:
One-year Sam's Club membership ($45 value)
Complimentary membership card for a spouse or other household member
$10 eGift Card valid online or in-club
$15 eGift Card for purchases on SamsClub.com
Free Fruit Party Tray ($19.98 value)
There is a more expensive option for $10 more that is actually a better deal as long as you redeem the gift card and you like free cheesecake. For $45 you get:
One-year Sam's Club membership ($45 value)
Complimentary membership card for a spouse or other household member
$20 eGift Card valid online or in-club
$15 eGift Card for purchases on SamsClub.com
Free Fruit Party Tray ($19.98 value)
Free Gourmet Sampler Cheesecake ($14.98 value)