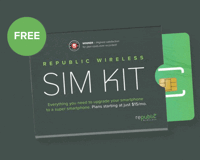 Updated 2018. Republic Wireless is a T-Mobile MVNO that reduces costs by using WiFi for calls and texts whenever possible. They have settled into the simple pricing structure below, with no contracts.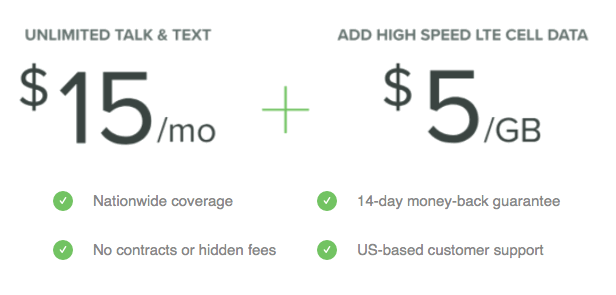 The best value plans allow a single user to pay $20/month for unlimited talk/text/1 GB LTE and $25/month for unlimited talk/text/2 GB LTE. The nice thing about these pay-for-what-you-use plans is that you save money on the months where you use very little data, as opposed to always buying the plan where you know you won't pay for overages.
Buy new phone, get 3 free months of service (phones start at $89). Get 3 free months of service if you buy a new phone and activate a new line. This is with the Unlimited Talk/Text + 1 GB Data plan, so that's $20 x 3 = $60 value for free. New phones start at only $89 for the Alcatel A30 Android phone. Moto E is $129.
Bring your own phone + Free SIM card + 1 free month of service. Right now, they are offering a Free SIM card + Free Shipping + Free 1st Month of Service. This is with the Unlimited Talk/Text + 1 GB Data plan ($20 value). If you use more data, you pay the difference. Taxes and telecom fees are not included. The idea is that you can swap out the SIM card in your phone and try them out with no obligation. You must activate by 6/30/18.
Phone options. You can either buy a phone from them or bring your GSM unlocked phone and use their SIM card. There are still no Apple phones on the list. Below is a partial list of eligible phones. The best thing to do is use their phone checker.
Google Pixel
Google Pixel XL
Google Pixel 2
Google Pixel 2 XL
Samsung Galaxy S8
Samsung Galaxy S9
Samsung Galaxy J7
Samsung Galaxy S7 Edge
Samsung Galaxy S7
Samsung Galaxy J3
Samsung Galaxy S6
Nexus 6P by Huawei
Nexus 6 by Motorola
Nexus 5X by LG
Moto X Pure Edition
Moto X4
Moto G5S Plus
Moto G5 Plus
Moto E4
Moto E4 Plus
Moto G4
Moto G4 Plus
Moto G4 Play
Moto Z
Moto Z Play
Bottom line. Republic Wireless now allows you to bring your own unlocked GSM phone for use on WiFi and T-Mobile LTE networks. Right now, they are offering a free SIM + free month of service to try them out for free. Apple phones are not eligible. The cost is straightforward: $15 for unlimited talk/text and $5 per GB of data used, making it best for modest data users.
If you are willing to buy several months of service at once (or have an Apple phone), also check out Mint Mobile (formerly MintSIM).