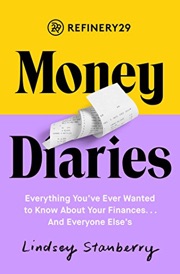 I've always been fascinated by stories about money. There are just so many ways that people earn and spend their money, yet we rarely share because we are taught to be secretive about it. I recently discovered the Refinery29 Money Diaries such as A Week In Portland, OR, On A $105,000 Salary. There is even a book. The participants are all asked the same set of questions, and I have answered them myself below as an interesting exercise in self-reflection.
Was there an expectation for you to attend higher education? Did you participate in any form of higher education? If yes, how did you pay for it?
Yes, there was definitely an expectation for me to attend higher education. My parents were willing to help pay for some of my tuition, but they had limited resources and there was definitely a "value" hurdle. If they personally didn't think the school was worth it (based on their personal opinion of the school's reputation), they weren't going to help pay for it. I applied to about four schools.
I am very thankful that my parents did help me with a significant portion of my college tuition and boarding costs. I finished my undergraduate degree with about $30,000 in student loan debt (this was over 20 years ago now). I went straight onto grad school and at that point was able to cover my own tuition and living costs using a fellowship stipend and income as a graduate student instructor and/or researcher. I started paying down the $30,000 in student loans during my graduate school years (helped by various side hustle income) and finished paying it off completely within 4 years of finishing my undergraduate degree. A major motivator was that I wanted to be debt-free before proposing marriage to my then-girlfriend.
Growing up, what kind of conversations did you have about money? Did your parent/guardian(s) educate you about finances?
I don't remember many direct conversations about money, but I did a lot of learning through observations. I saw frugality, self-discipline, and not being wasteful. My parents did not buy things without carefully considering the cost-to-benefit ratio. We hardly ever ate out at restaurants. They did not focus on material things, and were very practical. They worked long hours, played it safe, followed the rules, and built a very solid life over time. Education was highly valued.
However, I wasn't exposed to things like entrepreneurship, taking asymmetric risks, or investing in stocks and real estate. That journey was left to me, but I felt that I had a very stable base to get there. I knew how to live below my means, even if my "means" started out as less than $20,000 a year of annual income. I could create the raw material of having money left over to invest.
What was your first job and why did you get it?
My first job was probably either a math tutor or restaurant cashier at around age 16. Here is a list of every job I've ever had.
Did you worry about money growing up?
My observation is that kids notice money issues when they have a different experiences from their friends. Most people who "didn't feel poor growing up" had that feeling because all of their friends were in the same situation, for example living together in a homogenous neighborhood or housing development. Similarly, post people who "didn't feel RICH growing up" also had that feeling because all of their friends were in the same situation. I'm afraid that my kids are going to be in the latter group.
In my case, my parents put a premium on a good public school education but were probably below the average income level, so we usually ended up living in a cheaper rental in an affluent neighborhood. Therefore, I definitely noticed that I lived in an apartment or duplex when my friends lived in a single-family house. We drove the old import car when they pulled up in the brand-new SUV. The four of us shared a single bathroom, while others had their own bedroom and their own bathroom. I still had a happy childhood and was never hungry or scared, but I did notice these types of things.
Do you worry about money now?
I probably shouldn't, but yes, I do. Rationally, I should just be thankful for my health and my family's health. Those are gifts that can be taken away much more easily and suddenly than my relatively-conservative investments and job income.
At what age did you become financially responsible for yourself and do you have a financial safety net?
I started graduate school at age 21 and that was when my income was high enough to pay all of my own bills. My $30k in student loans were in deferral, and I knew that I'd have to take care of them at some point, but my monthly cashflow was net positive.
I'm sure I had a few hundred dollars in my checking account as an "emergency fund", but even more importantly, I always knew my parents still had my back even if I no longer received money from them. If something truly catastrophic happened, I knew they would come in and help. I'm sure I took it for granted at the time, but now in retrospect it is so valuable because it allows you to feel comfortable taking some risks in your life. Many people struggle today because they had to drop out of college early and were stuck with the tuition debt but no degree. Many people who had the potential to become doctors decided to become nurses because that was a surer, safer path.
Do you or have you ever received passive or inherited income? If yes, please explain.
I have not received any income from a trust or inheritance. My wife did receive an inheritance very recently. We plan to use any inheritance to help "pay it forward" and cover our three kids' educational expenses and/or help them buy a first home. Both sets of grandparents greatly value education. While we didn't receive any financial assistance for a home downpayment ourselves, I am not necessarily against helping my kids in such a way. (I would still be impressed if they can pull it off on their own.)