…because it looks like I'm getting another one. After seeing repeated news articles titled "Mortgage rate set record lows", I'm now looking at refinancing to a 15-year fixed mortgage for 3% with all lender closing costs covered. I've seen multiple quotes for under 3% and getting under or close to zero in net fees.
Here's a chart of the historical mortgage rate averages, courtesy of HSH.com. It includes the 30-year fixed, 15-year fixed, and the 5/1 30-year adjustable. Since I bought my home less than 5 years ago, 30-year fixed mortgage rates have ranged from a high of 7% to just above 4% today.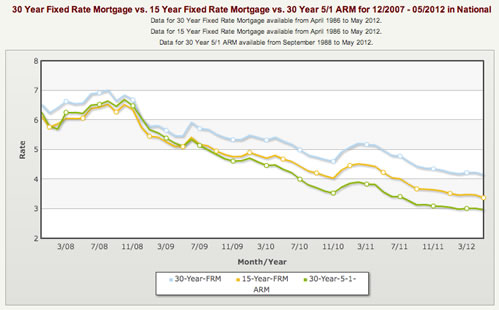 Even though I stopped trying to predict mortgage rates a while ago, I still find it hard to believe that I started with an interest rate of over 6% and now could be paying under 3% with a no-cost refi.
Alternative investments
If I successfully close on this loan, I don't know if I'll be aggressively paying it down as much as before. It's important to note that the risk levels are not the same for the options below, but the interest rate environment is finally tipping to the point that I'd consider investing instead of paying off 3% debt.
I could buy super-safe US Treasury bonds, with yields at ~2.2% for a 15-year maturity. Interest on Treasury bonds are exempt from state income taxes.
I could buy a municipal bond fund like the Vanguard Intermediate-Term Tax-Exempt Fund (VWIUX), which invests in investment-grade municipal bonds. The fund holdings have a duration of about 5 years and yields nearly 2% federally tax-exempt. If you're in the highest tax bracket, that would be an effective yield of ~3%.
If I lived in California, I could buy shares of the Vanguard California Long-Term Tax-Exempt Fund (VCITX) with 2.60% yield that is exempt from both federal and state income taxes, with a duration of 6.4 years. That could be an effective yield of well over 4%.
I could take on more risk and buy shares of mature, dividend-paying companies. The Vanguard Equity Income Fund (VEIRX) has a current dividend yield of nearly 3%.
I'm going through a local mortgage broker, but you can find similar rates over at Amerisave. If the "all lender fees and points" is negative, that means the credit they give you is more than all closing costs including appraisals and title insurance. (Anyone use them before?) Compare that with rate quotes from and Quicken Loans.