If you have a mortgage with an interest rate over 5% or even 4%, hopefully you have explored refinancing it to a lower interest rate. Yes, it can be a bit of a pain, and that is why many people leave tens of thousands of dollars, if not over a hundred thousand dollars, on the table. A one-time hurdle now is better than worrying about skipping lattes forever! Here are some useful nuggets of information that will hopefully motivate you to pursue it further.
Mortgage rates are back near record lows and refinance applications are spiking. From the NY Times on 1/20/15:
The average rate on a 30-year fixed-rate mortgage was 3.8 percent at the end of last week. That is down from 4.5 percent as recently as last spring, the lowest since May 2013 and far below the 5 percent-plus rates that prevailed as recently as early 2011. […] Homeowners who secured their current mortgage in late 2013 or early 2014, or anytime before mid-2011, may want to at least plug their numbers into an online calculator to see if the potential savings are worthwhile.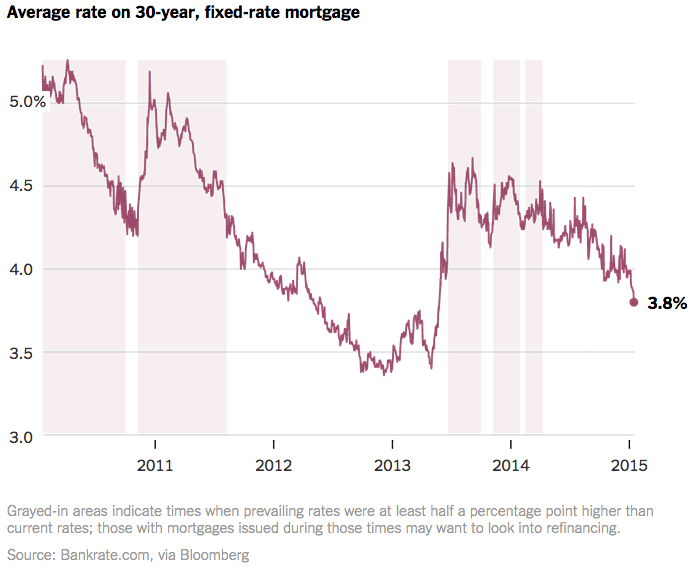 Home price appreciation may mean you can refi and get rid of private mortgage insurance. Home values have been rising, so you may now be eligible to refinance when you weren't in past years, which could reduce your interest rate and/or enable to you stop paying for mortgage insurance.
20% of people who could benefit from a refinance didn't… From a NBER paper and this CBS Marketwatch article
For example, in the period they study, December 2010, 20 percent of households that would have benefited from refinancing and had the ability to refinance did not do so. The median amount of unrealized savings was approximately $160 per month, or $11,500 per household over the remaining life of the loan.
… and they could have saved big bucks.
… a household with a 30-year, fixed-rate mortgage of $200,000 at an interest rate of 6.5 percent that refinances when rates fall to 4.5 percent will save over $80,000 in interest payments over the life of the loan, even after accounting for typical refinancing costs. With long-term mortgage rates at roughly 3.35 percent, this same household would save roughly $130,000 over the life of the loan by refinancing.
Shop around! People spend more time comparison shopping for a $500 computer than a mortgage that could save you $10,000. From Bloomberg:
Mortgage interest compounds the cost, and over the life of a loan, small differences in an interest rate really add up. The best way to save, then, is to shop around for the best rate possible, but a new survey by the Consumer Financial Protection Bureau (CFPB) finds that half of homebuyers consider only one lender or mortgage broker. That's particularly unimpressive considering that typical shoppers will spend at least four hours choosing a new computer.
There are new tools to help you comparison shop. Forget average interest rates. You want the interest rate for your situation. The Consumer Finance Protection Bureau (CFPB) has a new rate checker tool that takes into account your credit score, state of residence, house price, and down payment size to see what other interest rates people are getting. I like they show an actual distribution of rates and the number of lenders offering that rate: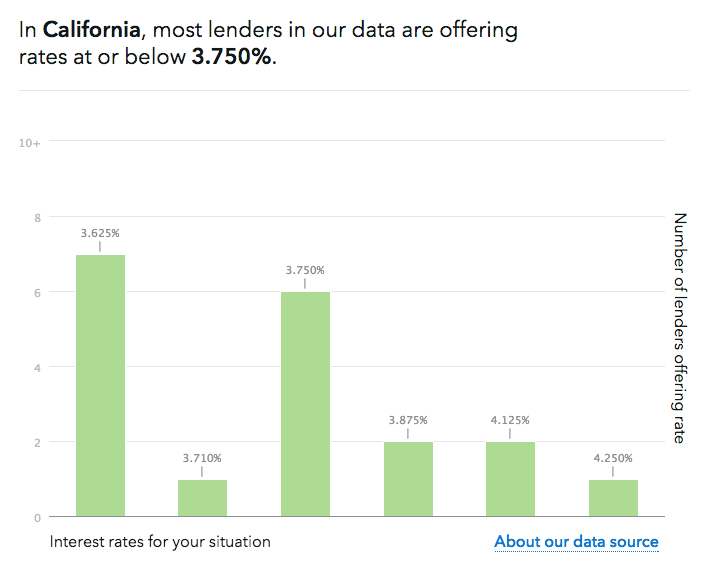 In the end, you will have to gather lots of paperwork and probably deal with a couple hiccups to get your refinance done. I never said it would be fun, but it is profitable. You can try the big networks like and Quicken Loans
, or you can ask around for a referral to a reputable mortgage broker. The CFPB recommends that you get quotes from three or more lenders. That way you can compare and even negotiate one off the other. "Rates often change from when you first talk to a lender and when you submit your mortgage application, so don't make a final decision before comparing official Good Faith Estimates."