I received a very sad e-mail today from reader Tina:
…A recent crisis with my cat has deeply taxed my savings. […] I have spent more than $4500 on my pet in the last three months. She developed lymphoma and the initial hospitalization and testing to find out what was wrong accounted for the bulk of the expense. The rest has been spent on follow-up chemotherapy treatments.

I'm curious how you would handle such a crisis (heaven forbid). Do you think you'd ever get to a point where the price was too high to keep your pet alive (assuming doing so will give it a relatively good quality of life)?
I think this is an important topic, but at the same time it's very touchy because I've found that people tend to have very polarized views on pets. Here is a quote from VPI pet insurance founder Jack Stephens:
Pet insurance is a nonstarter for many pet owners, simply because they take a pragmatic approach to their animals. If the cost of treatment got too high, they would choose to put the animal to sleep.

"About half see the pet as disposable. If it got really ill they just wouldn't treat it," said Stephens, whose company conducted research on the issue. The other half "were willing to treat, whatever it took."
Now, I don't think it's nearly as black and white as that, as I think most pet owners love their pets to some degree. But the people on the "pets-as-children" camp are often just as militant as the "they're just animals-not-humans" camp.
Economic Euthanasia
A recent Slate.com article subtitled What I wouldn't do for my cat also addressed this issue in depth. (The editor's choice response letters are also thought-provoking.) It refers to refusing care due to cost as "economic euthanasia". From reading it, cultural norms seem to be shifting. But in the end, I think it still all comes down to personal priorities.
What is the benefit? Are you talking about the cat or dog coming back to 100% health like a broken bone? Or are you paying to extend its life by weeks while lying in pain? There is a time that palliative care is the most humane choice.
Where is this money coming from? Don't just look at the number, look at what you'd be giving up. At $2,000, is this money that would go to a vacation to Mexico otherwise? A new HDTV? Payment on your nice car? Now, let's say it means you can't buy gas for work or food for your kids. Different story.
Give it away? I think most vets can draw their own line as to what is "necessary". So if you're not willing to pay, maybe you should let one of them handle it:
Recently, I called our vet, Dr. Timothy Mann of Northside Veterinary Clinic in Brooklyn, N.Y., to ask him what would have happened if we hadn't opted to pay for surgery.

"We don't believe in putting animals to sleep because of money," Dr. Mann said. "If someone can't afford or won't pay to save an animal who can be saved, we'll save the animal and then keep it or find it a good home."
Also, be sure to contact local rescue groups. They will be happy to take your sick dog, and will find some way to pay for the care. We are signed up for rescue lists for our specific breed of dog, and we would gladly take another one in if the need arose.
Plan Ahead With Pet Insurance
One way to avoid such difficult decisions is to buy pet insurance. Although it can be expensive at around $30 a month, it will definitely help soften the blow of a huge unexpected bill (although it likely won't cover it all). Alternatively, put away money regularly in a "pet health savings account". If you put away just $20 a month and your animal experiences issues at 5 years old, you'd already have $1,200 + interest to cover it.
My Own Doggie Evolution
I never had any pets growing up due to a broad parental ban. Not even a goldfish! My wife, on other hand, was always surrounded by animals. Rabbits, hamsters, guinea pigs, fish, dogs… When we got our first dog from the local Humane Society nearly 3 years ago, I didn't really know how I would react. Would I love it? Would I ignore it? I must say that our little dude has burrowed his way into my heart. I mean, how can you say no to this buttercream-covered face?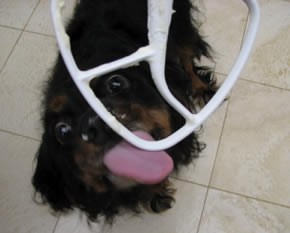 For us, we would give up just about all of our luxuries before withholding healthcare for our dog. We are both in agreement as well, which is great because I know for other couples it can be a point of great tension. Heck, my wife the fashionista would probably wear a potato sack around while selling our car and taking the bus 2 hours to work every day if it came down to it.
However, if it meant sacrificing the health or safety of an immediate (human) family member, I would think twice. By this I mean taking on a dangerous level of debt, or cutting corners in the essentials like nutritious food, health insurance, and safe housing.
But this doesn't mean I spend my time judging other pet owners for deciding against care due to high cost. For many people pets are not humans, and there is a line to be drawn. But again, if you can't or aren't willing to pay please make sure you've considered all your options.