Updated with $5 new user bonus, limited-time $10 off $100 coupon code. Raise has a new promo code APP10 that takes an additional $10 off $100 minimum if you use their app (links below). Valid for existing users. Now only valid for new users. Expires 5/16/16.
To redeem, open the Raise app and apply code APP10 in promo box at checkout. Exclusions: $100 order minimum. Can only be used on the Raise app. Cannot be combined with any additional offers. Limit one time use within date of promotion. One redemption per household. Offer expires on 05/16/2016 11:59 PM CST.
For new users, Raise has a referral program that offers you $5 to start. Here is my $5 referral link. Thanks if you use it! Here's the generic text:
Join me on the upside at Raise, where your money is worth more. Here's $5 to get started! http://geta.raise.com/jping1
Lots of the good gift cards just over $100 are going fast, but new ones are also arriving. I probably could have done better with some patience, but I snagged a CVS gift card at 17% off face value for an upcoming purchase.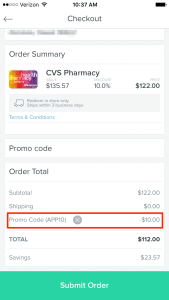 Original post: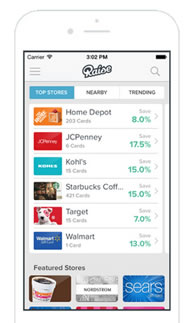 I prefer shopping tips that let you save money on stuff you'd already buy anyway. Raise.com lets you buy and sell gift cards online, and according to them they are the largest online marketplace for gift cards (plus they've raised $25M in venture capital).
Raise now has both an iOS app and Android app. You an tell they put some thought into it with little things like scanning your credit card number via smartphone camera and storing all your past gift cards in their "wallet".
This app makes it even easier to buy a discounted gift card after you've already decided what to buy and are on the way to the register. Store your credit card info ahead of time, buy a discounted card for 5% to 10% off, and use up the gift card a minute later. Why wait for shipping? Definitely worth keeping on your phone, if only for big $100+ purchases. Always check the gift card to make sure it will be delivered electronically. The fine print states that eGift cards will be delivered "within 1 hour" but they've always arrived within a minute for me. Even their press release states "A user standing in line for coffee, for instance, could quickly find and buy a corresponding gift card and redeem it at the store counter, pocketing instant savings."
Raise also guarantees that the gift card you purchase will have the correct value upon redemption. The only "catch" is that you must tell them within 60 days of purchase. I wouldn't recommend waiting nearly that long with any used gift card, as at least one other person has the code.
Final tip – Inventory is constantly changing with this app, gift cards can disappear even though you've already added them to your cart!