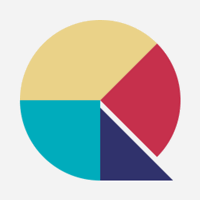 Before we let them take over the world, computers must first prove their worth by helping us become better savers and investors. Importantly, we humans have a horrible tendency to put off saving when we have to manually do it each and every time.
Fintech start-up Qapital intends to fix this by automatically setting aside money based on a customized selection of rules. At it's core is a free, FDIC-insured savings account held at Wells Fargo with no minimum balance or monthly fees. They are also giving out five bucks to start (details below).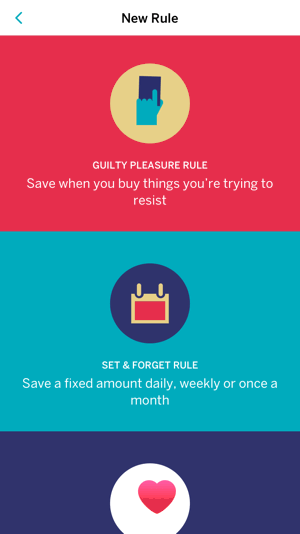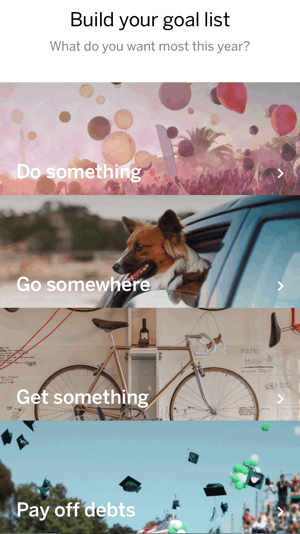 Here are the current rules available:
Round-up Rule: Round up your purchases and save the difference every time you buy something. Ex. You can round to the nearest $1, $2, $3, $4, or $5.
Spend Less Rule: If you spend less than your target budget amount, then save the difference. Ex. Spend less than $15 at Starbucks during a week, then save the difference towards a goal.
Guilty Pleasure Rule: If you buy something you're trying to resist, Qapital will automatically save some money for you. Ex. Save $10 every time you make a purchase at McDonald's.
Set & Forget Rule: A traditional rule where you save a fixed amount daily, weekly, or once a month. Ex. Save $50 every week.
Apple Health Rule: If you hit your fitness target, Qapital will save towards your goal. Ex. Save $50 towards vacation goal every time you take 500 steps.
IFTTT Rules: Use the IFTTT service to trigger a money transfer.
Freelancer Rule: Every time you receive a large deposit, save 30% of it towards taxes.
52 Week Rule: Save $1 the first week, $2 the second week, and so on for 52 weeks. (This adds up to $1,378 by the way!)
You must be 18 years old and link up an existing US-based checking account as the funding source. Trial deposits are used for verification using account and routing numbers. To prevent a million little transactions, withdrawals from your checking account to your Qapital account are only done twice a week. You can make move money back into your checking account at any time.
You can also add a credit card such as Citi, Chase, or American Express to trigger the rules, although you can't use it as a funding source.
If Qapital is free, then how do they make money? They don't charge any fees directly. They make money by keeping any interest that might be earned on your savings balance. Given that the top savings accounts pay roughly 1% APY, that means for every $100 in the account you're losing out on $1 a year. They promise not to sell your transaction data.
Get $5 free to start. Right now, Qapital has a refer-a-friend promotion where a new user can get $5 if they are referred by a current user and open a new Qapital account with a least one deposit. Here is my special $5 referral link. Thanks if you use it!
Recap. Qapital is another iteration of "let me save for you" concept, previously seen in the "Keep the Change" program from Bank of America and the "round up to the nearest dollar" system from the Acorns app. Qapital differs in that they offer a wider variety of rule-based triggers, they are free while working with any credit card, and your only option is an FDIC-insured savings account (no stock investing). Overall it is a nice execution, although I predict that this idea will become more common across many different financial institutions over time (i.e. other people gonna copy it).
Setup is relatively easy and the user interface is good; I've set up a few rules for myself. I like that you can round up purchases into a simple savings account instead of the tax complexity of buying tiny bits of ETFs. There is no phone number, but there is in-app chat and e-mail support. My question was answered within an hour during their business hours. The app has worked fine so far while rounding up my purchases, but I'll be interested to see if it keeps my attention several months from now.
More screenshots: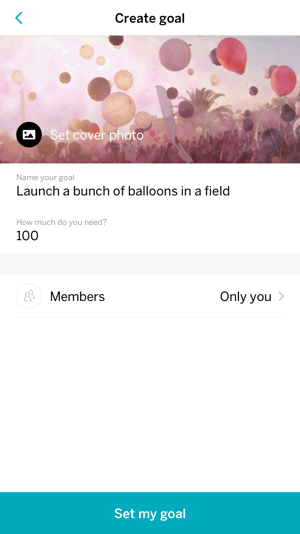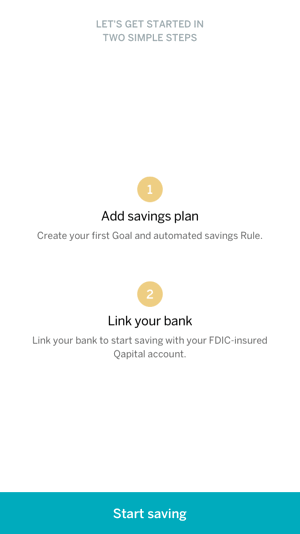 Next up: Digit.