Direct Link: http://www.presidential.com
Current APR: 4.75% APY
Interest Compounding: Compounded and credited on a monthly basis.
Minimum to open: $5,000
Minimum to avoid monthly service charge: $5,000
Other fees of note: None
Download formats available: .ofx/.qif/.csv files*
Number of external bank account links allowed: None
Routing Number: 255073345
Opening Bonuses: None

Deposit Hold Times: From their site – "Funds from electronic direct deposits to your account will be available on the day we receive the deposit." That said, since they don't allow the linking of external accounts, the only easy way to get money in and out of this savings account is by also opening up a checking account there as well. Please see my review linked below for more details.
Safety of Deposits: Presidential Bank, FSB is FDIC insured (certificate) up to $100,000 per depositor. Still, this does not mean all banks are the same. BankRate.com's Safe & Sound Rating assesses banks' relative financial conditions. Presidential Bank has a rating of 4 out of 5 stars ("Sound" condition).
How to add external link: See Review link below.
Contact Information:
Email: email@presidential.com
Mail:
Presidential Bank, FSB
4520 East-West Hwy
Bethesda, MD 20814
Phone:
– Customer Service 800-383-6266
– New Accounts 800-799-1424 (both 8 am-10pm ET)
Customer Service Opinion: Good. I've called Presidential at least a couple of times, most recently to request a large cashier's check so I could buy my car. The reps were knowledgeable and helpful, with little or no hold times.
User interface Opinion: Ok, I know the website looks very early 90s. It worried me too initially. But I think this bank seriously just puts all their money into giving out great rates (and decent customer service). Honestly, the online banking interface is fine. It works, and that's all I care about. Here is a screenshot of what you'd see if you had an account: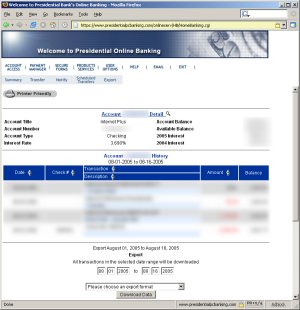 Other things of note: I previously wrote a detailed review of this account, which also describes to your options in getting easy access to your money: Presidential Bank Premier Savings Account Review.
Also, a hard pull on your credit check will occur the first time you apply for any type of account at Presidential Bank. This will put a slight ding in your credit score for 6 months. I don't think ING, VirtualBank, or Emigrant do this, they did not for me at least.
* .ofx is Microsoft Money's current format, .qfx is Quicken 2005+ format, .qif is Quicken 2004 and older and also older MS Money format, .csv is Comma Separated Values which is a more generic spreadsheet format.
[Rates Updated 5/3/06]