The following is a guest post from reader Chris, who shares a quick and dirty (and cost-conscious) examination of Round-the-World Travel. He writes about about making a life of long-term travel and other related topics at ChrisCarruth.com.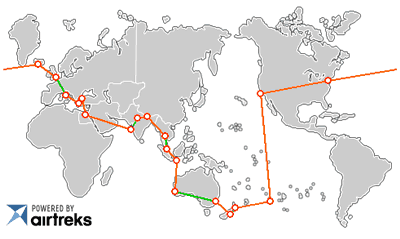 $10,000 goes a long way. That's a healthy drop in the retirement bucket, a sizable boost to any portfolio, a new(er) car or, as I'm about to advocate, an adventure of spirit and culture and affirmation that most never embark upon.
Would you believe me if I told you that you could travel the world for $10,000? Hopefully, by the end of reading this you'll see the opportunity for what it is. Of course we aren't talking about stopping at the nearly 250 UN recognized nations, but rather circumnavigating the globe while stopping at a selection of countries and cities. Your time frame, your itinerary, your budget (and your sensibilities) will set the limits of your travels, so keep them in mind at all times.
Being readers of MyMoneyBlog.com, I think it's safe to assume that you're all fairly versed in saving methodologies and tips and tricks and are in, at least, a decent financial state. If you're a new reader or simply don't have that kind of scratch lying around, I didn't leave you out. I've left some time honored travelers tips at the bottom to both save money for your travels and to pinch pennies while on the road. General rules of this study:
I am traveling solo.
I have gear and vaccinations.
I have $10,000.
I will travel for 3 months – 1 week in the US. 5 weeks in Europe and 6 weeks in Asia.
Consideration #1 – Airfare
Costs: $1,700
Remaining budget: $8,300
Airfare these days is not only the most economical choice, but also the least logistically imposing method of traversing the globe. There are two main schools of thought when it comes to RTW airfare – have it your way or go prepackaged. Customized itineraries allow for greater flexibility of schedule, freedom of destination and directional independence, while "pre-packaged" RTW tickets typically want you flying East-to-West (or vice-verse, no hopping back and forth), have a handful of stops and must be used within a certain date (usually within one year from purchase).
My focus on traveling will be South East Asia and Western Europe in a west-to-east route. I've opted for an itinerary from Boots'n'all Travel, who partners with the Airtreks to bring all this in at $1299 (as of September 2010, see current RTW specials here) . There are always some hidden fees, so let's buffer that up to a straight $1500.
Flight itinerary – SE Asia & Europe Budget Ticket: San Francisco or Los Angeles – Manila – Borneo (Kota Kinabalu) – Singapore – Angkor Wat (Siem Reap) – surface – Saigon (Ho Chi Minh City – Bangkok – surface – Kuala Lumpur – London – Amsterdam – surface – Paris – San Francisco or Los Angeles from US$1299
Note: This sample itinerary is good through September 30th. Each month Boots'n'all offers different routes, but the prices, and locations, generally stay the same.
In the interest of creating as realistic a scenario as is reasonable, I'll dish up the fact that I don't live in San Fran or L.A. I'm a Colorado Springs resident…a quick check on Kayak.com shows that round-trip airfare from my home to the Bay Area and back runs less than $200. Done (and subtracted from our budget).
On a side note, if you're concerned about the environment impacts of air-travel, you'll be happy that the sustainability movement has more than a foothold in our modern travel climate. Carbon offsetting is an option as are bio-fueled jets (not commonly available…). Of course, these will up your costs and for the sake of staying under budget I've left them out.
Consideration #2 – Lodging

Costs: $3,000
Remaining budget: $5,300
The location where we lay our heads at night should be a place of rest, of sanctuary. More to the point, if you can't see yourself comfortably staying in dorm accommodations, then don't force yourself. You'll be happier for as will the staff and other hostelers. I will say that you should at least try dorm living before you rush to judge as it's an excellent way to not only save money on the road, but to connect with other sojourners. Personally, I prefer hosteling in a single private room with access to shared restroom facilities. A large step up from dorms and a small step down from a hotel.
There are several factors that come into play for pricing such as season, country, the accommodation and room type and the length of your stay. More succinctly, an August dorm bed in downtown Paris for two nights will run in the neighborhood of $50USD whereas a single private in a Cambodian hostel during the same time would be $50USD for the entire week. The western world is invariably more expensive, so budget accordingly when planning out your stays in each city.
By checking the HostelWorld.com reservation engine, I've priced out private rooms, for 6 weeks (5 in Europe and 1 in the US) at an average of $40 a night. The total for these six weeks is roughly $1700 / $45 per night (I buffer like crazy…). Remember, we can go higher or lower depending on our personal tastes.
Now, for six weeks in Asia, I'm using HostelWorld again, to get the average costs of the region. Keep in mind that Indonesia, Cambodia and other countries in the region will be far less expensive, but it's always better to plan for the worst and hope for the best than the other way around, right? Costs of private hostels in South East Asia for six weeks – $1300 / $30 per night.
With our handy dandy figures, we can estimate that we'll have private accommodations, sans private restrooms, for our 3 months at a little under $40 per night or for $3,000 total.
Consideration #3 – Food, Attractions, Events, Misc
Costs: $5,300
Remaining budget: $0
With transportation and lodging addressed we're really only left with daily expenses. These suckers add up though and it's because of that I couldn't discount them entirely. It's great that we have budget for hostels and airfare, but what about the costs of getting to the hostel from the airport (and back)? What about the three hot meals? Or seeing the Louvre in Paris, Buckingham in London, catching an Oakland Raiders game while in the Bay Area, partaking in the decadence of Thailand's full moon party or hiring that guide in Angor Wat? What's travel without experience?
That's where our remaining budget is allocated. It's play money – but play smart. You need to eat, you don't need to visit every gallery that Vienna has to offer (nor would you want to…the constant cultural bombardment would have your head swimming by the third consecutive day, trust me.)
I enjoy shopping at open air markets and foreign grocery stores, so this helps keep my budgets manageable. A bonus of staying in hostels is that you get the use of their kitchens. Home cooking on the road. Of course, you don't want to make every single last meal, so plan on eating out once in a while, and budget that in. Like lodging, food and entertainment costs vary on the season and the region.
I'd say $30 a day in the US/Europe and $20 a day in South East Asia is about right for the cost-conscious private room hosteler. That comes to $2100 over six weeks. Yet, there's no buffer, so let's make that a more psychologically pleasing number – say $2,500. A cool quarter of our overall budget straight to food. It's worth noting that most hostels offer up free breads and jams and coffees and teas in the morning…and it's generally acceptable behavior to gorge on bread before heading out for the day. Just saying 😉
Where does that leaves us? With ~$2,800 remaining for souvenirs, taxis, entrance fees, and everything in between. Not bad and remember this was done with decent lodging and a very liberal "buffer" system. Travel can be had for even less depending your sensibilities. Travel can be had depending on you. So, take that $2,800 and go rent a bicycle and see Bali on two wheels instead of two legs, see the fine art in gay Paris, take in a show in London's theater district, go explore both the inner and outer worlds. After all, in the end, it's not the money – money's just the fuel – it's the experience.
And there it is. A quick and dirty overview of the accessibility and affordability of Round-the-World travel. As I've stressed, many factors come into play that will determine how long you can travel, to where, and what your daily expenses may be, but I'm obligated to write that, as with any worthwhile undertaking, travel starts with desire and with intention. If you want to travel the world – you will. It may not be today or even tomorrow, but set your wheels in motion and sooner or later you'll get to where you're going.
Your brother in travel,
-Chris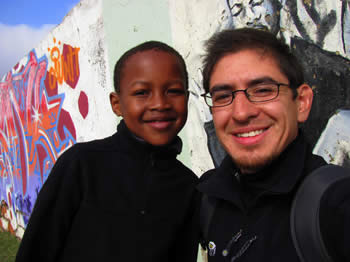 Chris in Soweto, South Africa
"Twenty years from now you will be more disappointed by the things you didn't do than by the ones you did do. So throw off the bowlines, sail away from the safe harbor. Catch the trade winds in your sails. Explore. Dream. Discover." – Mark Twain