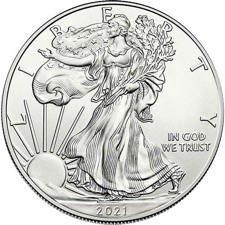 Another new coin deal on Thursday, August 12th, 2021. PFS Buyers Club has another coin deal on a limited-edition 2021 American Eagle Silver Coin. They will pay you a guaranteed fixed profit of $61 plus any credit card rewards. See details below.
Tomorrow! August 12th, at 12:00PM ET, the US Mint will be releasing a limited edition American Eagle Silver Coin. There is a purchase limit of three coins per household, so you're able to buy three coins. The cost of each Silver Eagle coin is $73.00, and when adding the $4.95 shipping charge, each order will total $223.95. PFS will be offering a commission of $61.05 for each order for a total payout of $285.00.
If you are new to this type of deal please the previous similar (but expired!) deal for more background information and answers to most common questions. I have now done multiple deals with them and been paid as promised with no issues.
If you want to jump on this, you can sign up to join PFS Buyers Club here. PFS will provide *very* detailed instructions. Read them ahead of time, and follow them carefully to help you buy the coin before it sells out. If you use that link as a first-time buyer, I will receive a referral fee the first time you successfully sell your coin for a profit. Thanks for those that use it, and for those that already used it in the past. I will be opting in myself as well.