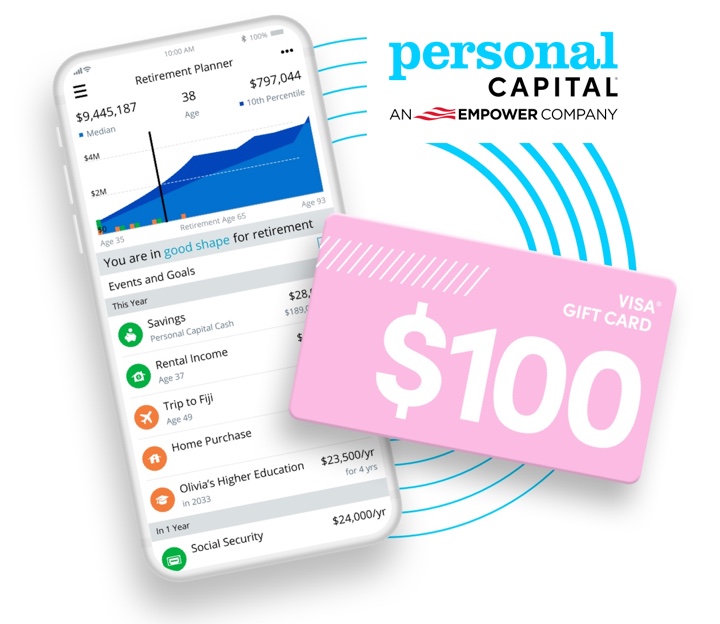 Personal Capital is an investment advisory service that offers several free online financial tools as a way to introduce themselves to potential clients. I mention them once a quarter, as I use them to track my Humble Portfolio performance and asset allocation across various brokerage and 401k accounts. They also have various retirement planning tools for projecting required savings rates and future income. Below is a screenshot from my own account. (Morningstar recently started charging for their Portfolio X-ray service, leaving Personal Capital as one of the few such services left.)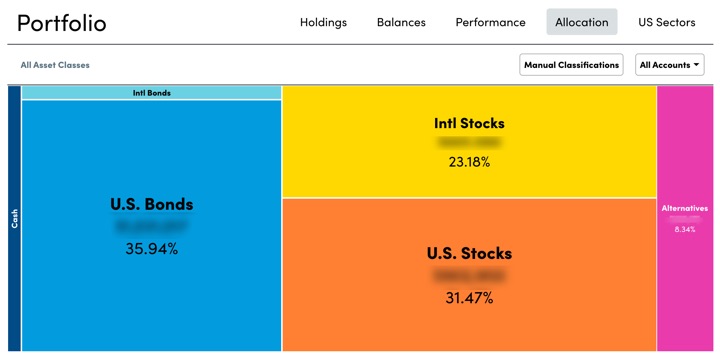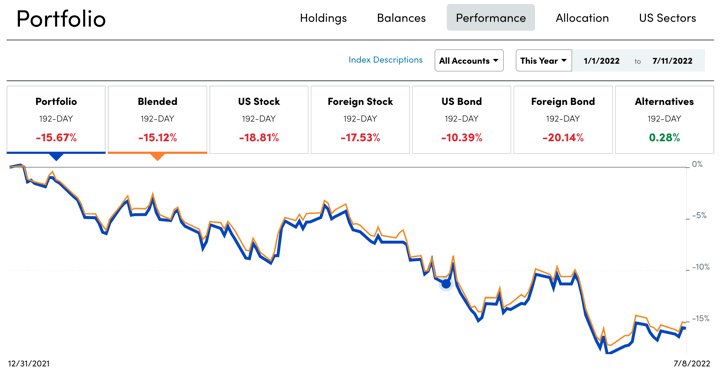 After you sign up for their free tools, Personal Capital would usually call you once and introduce themselves and their services. They want to help you manage your portfolio for a management fee that is somewhere between the cost of the average 100% digital robo-advisor and a traditional human advisor from a Big Firm. If you politely decline, as I did, they won't hard-sell and won't call you again. (Much more pleasant than trying to cancel my cable service!) You can keep using their free software after that without hassle.
Now through 10/31/22, Personal Capital will explicitly pay you a $100 Visa gift card if you sign up for their free tools and receive a financial advisory analysis and sales call from them. You will need to sync up your investments accounts showing total investable assets of at least $250,000. You do not need to accept the proposal or pay for financial advice, but you do need to listen to their presentation.
Ready to take control of your finances? Plus get a $100 bonus? Use our free tools and make a plan with one of our expert financial advisors to get started. Terms, conditions, and eligibility rules apply. Valid now through 10/31/2022.

– Sign up for our free, easy-to-use financial tools—including our Retirement Planner
– Link your bank and investment accounts
– Receive your free financial analysis after talking with an expert
– Treat yourself with your FREE $100 Visa® gift card*
Offer fine print:
Offer available through Oct 31, 2022. If you schedule an appointment with a Personal Capital Advisor and participate in both an initial call and a second call in which you receive a recommendation and proposal for paid investment advisory services by Oct 31, 2022 (a "Recommendation"), then you will receive receive a $100 Visa®* Gift Card (the "Gift Card"). The Gift Card will be provided via email no later than Dec 31, 2022 through Thnks.com ("Thnks"), an independent third-party gifting platform. By participating in this promotion, you are agreeing to allow Personal Capital to share your email address with Thnks for Gift Card fulfillment purposes and agreeing that information collected from promotion participants may be used by PCAC or affiliates for marketing or solicitation of paid products or services.

The Gift Card is only available to prospective clients who receive a promotional offer. To qualify as a prospective client, you must: (1) have a minimum of $250,000 in investable assets, (2) not have redeemed a Personal Capital promotion in the previous 24 months, and (3) answer a suitability survey posed at the beginning of the initial call with a Personal Capital Advisor at which time the Advisor (at his or her sole discretion) will make a determination as to whether you qualify as a prospective client for paid advisory services offered by Personal Capital Advisors Corporation. Using an ad blocker may adversely affect our ability to determine your account eligibility in the program. This offer is not transferable and cannot be redeemed in any other manner. Final determination of eligibility is at Personal Capital's sole discretion.
If you don't want to listen to a full presentation, I would just sign up for the free tools and skip this offer. The free tools are useful just on their own. But if you want to hear what they have to say and maybe get a little free advice, then right now you can get a $100 gift card on top.