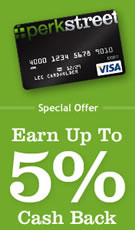 Perkstreet Financial is relatively new, but they've already tried a bunch of different ways to make their online checking account attractive, from sign-up bonuses to coffee awards. However, I think they've stumbled onto something with their new cashback debit card rewards structure that beats out any other online bank currently:
Earn 2% cash back on all non-PIN debit card purchases when your checking account balance is $5,000 or more. For new accounts, you will earn 2% cash back no matter what your balance is for the first 3 months, starting on the day that your account is opened. (Otherwise if your balance that day is below $5k, you earn 1% cash back.)
Earn 5% cash back at a rotating set of retailers. This appears to be the new trend amongst many rewards cards. For October 2012, you can get 5% cash back at The Cheesecake Factory®, Pottery Barn®, Pottery Barn Kids®, PotteryBarn.com, Ace Hardware®, AceHardware.com.
PowerPerks 2.0 with deals updated every week
There is no limit to the amount of cashback you can earn.
Fees. The account has no minimum balance requirement, but does require you to have some sort of activity each month to avoid a $4.50 inactivity fee. Be sure to have some sort of deposit/withdrawal (electronic transfer is fine), debit card purchase, online billpay, or a cleared check every month.
The checking account earns no interest, so you'll have to account for that based on your usual average balances. On the website, it advertises that you could earn $600 in rewards each year. Here's their rationale:
Making $601 in weekly non-PIN purchases will earn you $625 in perks annually (when you maintain a balance of $5,000). According to the U.S. Bureau of Labor Statistics, the average American household spends $601 per week on purchases that could be put on a debit card, including stuff like utility bills or rent.
I'd adjust your expectations according to your own situation. I've never had a landlord that let me charge my rent on a debit/credit card, although I'm sure some are out there. 🙂 Example: Charging $500 a month at 2% back would be $120 a year.
Opening an account. They do try to make it easy… you only need $25 to open, and you can even do your initial funding on a credit card for up to $500; they promise to run it as a purchase to avoid cash advance fees.
For folks who already have a their preferred set of cashback credit cards, this might not be enough to switch. However, this does serve as a nice alternative for the subset of folks who choose to avoid credit cards for whatever reason. I have lots of friends that prefer debit cards due to the sheer simplicity of it – they buy something, and the money gets taken out direct from the checking account. Done. No extra bills to pay. I just read that 50% of all charge card purchases this year will be done on debit cards, so they aren't alone.