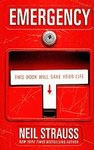 "Terrorist attacks. Natural disasters. Domestic crackdowns. Economic collapse. Riots. Wars. Disease. Starvation. What can you do when it all hits the fan?"
Sounds like great travel reading, right? Well, it was, at least for me. Emergency: This Book Will Save Your Life by Neil Strauss is not, as you might think, a detailed survival manual, but mainly of one guy's journey to try and protect himself from all that could kill him. He calls himself a "Fliesian", based on the book Lord of the Flies, which in his words is "someone who believes that people, if put in a world where there are no consequences to their actions, will do horrible things."
The first half of the book pretty much details all the things that could go wrong in the world, and his primary goal is to get a second citizenship from another country. The idea being that if the sh*t hits the fan here, he could in theory escape to safety to this other country. The main problem is that most countries, unless you are a citizen by birth or family, force you to renounce your US citizenship. However, it turns out that you can essentially "buy" citizenship in several countries for, oh, about $500,000 in the island country of St. Kitts. I thought this was quite anti-climactic, and not very useful knowledge for most of us.
One related theory that I did find interesting was on how to become a "perpetual tourist", as to minimize your tax burden and maximize your personal freedoms. To achieve this, you will need "three flags" from three different countries:
Have your citizenship somewhere that does not tax income earned outside the country.
Have your businesses in a stable, low or no tax country.
Live as a tourist in countries where you actually like to spend your time.
A nice idea, but we are not told how to make this actually happen. 🙁 We do find out that Swiss banks won't even talk to U.S. citizens trying to open an untraceable account.
The second half of the book is more focused on actual survival skills. However, again it's more of a story of how he takes a variety of different courses from shooting guns to camping to recognizing edible plants to tracking animals, and less of how to actually do these cool things.
The most practical part of the book for me was when he did a 3-day test where he shut off all of the utilities in his condo (water, gas, electricity) and tried to survive on his own. This is actually something I want to try. Most people know to keep some water and food. But how much water do you actually need? What if you don't have enough? Another example of what you might overlook – where will you poop without flushing toilets? The cardboard port-a-potty he bought had bags that disintegrated in less than a day.
He also explores what's needed in a bug-out bag, which is a kit designed for you to grab, run, and survive for about 72 hours. He points out that in a city-wide disaster like Katrina, it is unlikely that emergency crews will be able to help average citizens for up to a week. They'll be too busy helping the seriously ill. You'll be on your own.
This book was a very easy read, and definitely worth it the time spent if only to explore different possibles. I must say, I do have a certain fascination of living "off the grid". In some areas near me, I figured that I could have a house that is both completely solar-powered with batteries, and could collect enough rainwater if not by a natural water supply. Too bad I get the shakes when I can't check my e-mail for 24 hours…