Another one of my Peerstreet loans was paid off recently, and I realized that it has been over a year since my last update on this experiment in real-estate debt. Here's my current view on this unique investment.
Peerstreet in a nutshell. "Fractional investments meet hard money lending". Real estate investors need money quickly to purchase a property, so they pay a higher interest rate for lighting-fast funding but usually only hold the debt for 12-36 months. This used to be for wealthy folks with lots of cash lying around, but Peerstreet lets SEC-accredited investors put in as little as $1,000 to fund a portion of any specific property. The loans are backed by a first lien on the real estate property.
My performance in a nutshell. Since 2016, I have funded 72 loans on 72 different properties with between $1,000 to $5,000 each. I have earned nearly $5,000 in interest at an overall IRR of 6.8% so far (verified with Excel). 67 of the loans have been paid off, 2 are current on their payments and mature in 2022, and 3 are in various stages of being late. Due to rising real estate prices, I am just being patient and letting Peerstreet handle the legal gymnastics.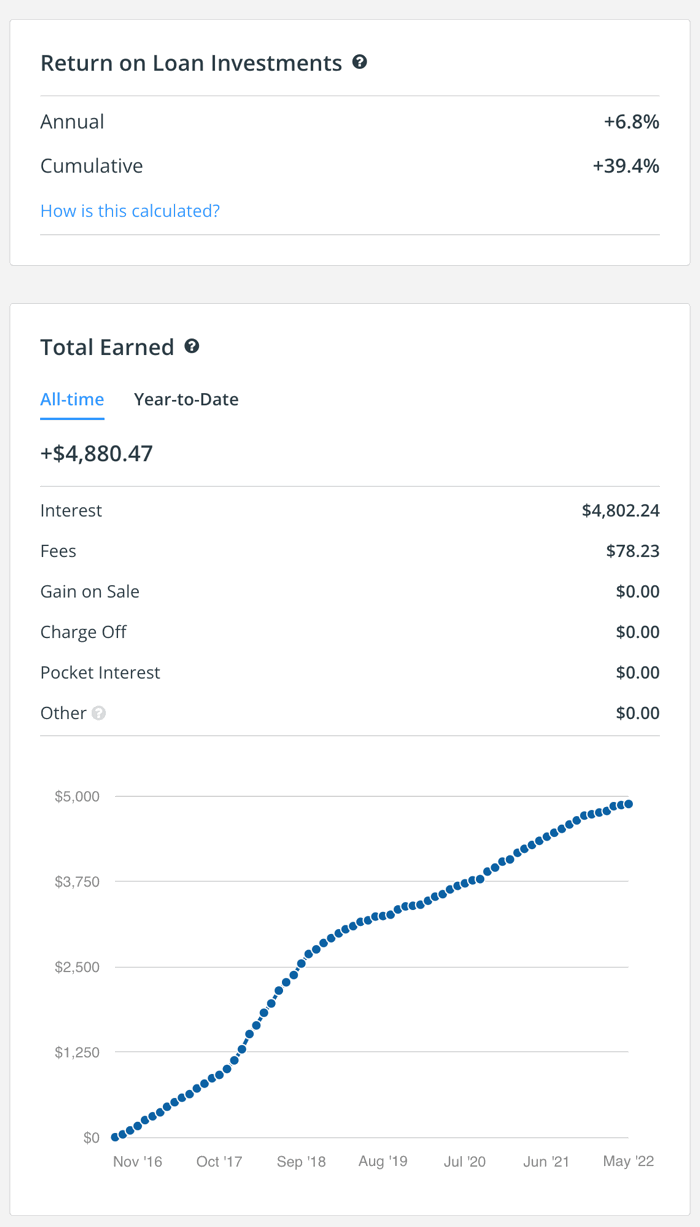 Why I stopped investing in a nutshell. My 72 loans were all between 7% and 10% interest. The median was 7.50% and the average was closer to 8%. However, in the past year the rates have been more often in the 6.5% to 7% range. Traditional 30-year fixed mortgage rates are now close to 6%, and Peerstreet's rates are a bit higher now but I am still choosing to sit out at these offered rates. I have been seeing loans taking longer to become fully funded so perhaps I'm not alone. Below are the two most recent loans available, just as an example: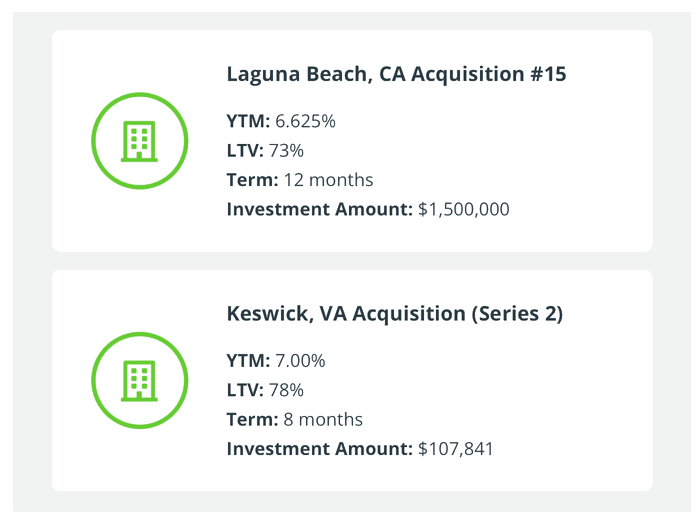 Secondary marketplace. Peerstreet has added a new feature where selected people (usually larger institutions) can make offers on your existing loans prior to maturity, possibly offering you valuable liquidity. In my experience, I have only received a few lowball bids on my loans that are in foreclosure, on the order of 50 cents on the dollar. No thanks. It will be much more interesting if/when they open this up to everyone, so that you can have a more efficient marketplace for loans in default.
Peerstreet Pocket 3.5% APY. Peerstreet also rolled out an optional feature called Pocket that pays higher-than-online-bank rates on your short-term cash. They just raised the rate up to 3.5% APY. You can deposit daily, but only withdraw once a month (with two weeks notice). The funds are not FDIC-insured and are backed by the financial ability of Peerstreet (effectively this is lending money to a young start-up company).
Bottom line. I still like the idea of Peerstreet and have had an overall positive experience (you do need enough invested to maintain proper diversification across loans), but the interest rates currently being paid out just aren't high enough to maintain my interest. I'm currently withdrawing my funds gradually as the loans get paid back over time and investing them elsewhere. 10% interest rates would get my attention back, though! 💰
If you are interested, you can sign up and browse investments at PeerStreet for free before depositing any funds or making any investments. You must qualify as an accredited investor (either via income or net worth) to invest. If you already invest with them, they now sync with Mint.com.