If you look at the progress bars on the top right of this site, you'll see our current progress towards our mid-term and long-term goals. I just wanted to spend a minute and discuss these goals, as I haven't revisited them in a long time.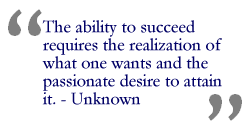 First of all, these were initially set over two years ago. Since then, I've quit a well-paying steady job, went back to school, and started doing a combination of mismatched jobs. Only recently am I about to get back on a stable income. My wife is doing incredibly well in her career, exceeding even our expectations. In other words, there's no way we could have predicted how the last two years have turned out.
$1,000,000 Long-Term Goal… Sooner Than You Think
Many people point out that we're going to need much more than $1,000,000 in order to retire. I totally agree – that's why the deadline for this goal is actually set at age 45, after which we plan to keep working for another 10 years (and allow that million to keep compounding away). My goal remains to become "financially free" by age 55, meaning I don't have to work, even though I'm sure I'll need something to keep me occupied.
This gives me a goal that's within 20 years from now, and a nice round number that I can wrap my head around. At the same time, we don't want to be mercenaries – we both want meaningful jobs that won't make the next 27 years miserable.
$100,000 Mid-term Goal… Almost Time!
Again, this goal was made based on me keeping my old job and income. Quitting put us behind (check out the dip in our net worth history chart), and it is unlikely we'll catch up in time. Saving up $100,000 in non-retirement assets (mainly cash) for a house down payment is a lot harder than I thought. You don't get the benefit of big stock returns, nor the time to compound them. It's just cold reality – every dollar you spend is one less towards your goal.
Still, we try to maintain a good balance between saving and enjoying our lives, and with the housing market looking the way it is, we aren't in a hurry to buy. If anything, our income by the end of 2007 will be higher than what we would have expected before, so it's all good.
In the end, I'm still glad we made these goals, as it has definitely helped focus our energies. Hopefully my next post on this topic will be about the completion of this mid-term goal and the need for a new one!