The Ohio CollegeAdvantage 529 Savings Plan is again offering a $25 refer-a-friend bonus if you open an account and deposit at least $25 by December 15, 2009. You can be a resident of any state, and there are no application or annual fees.
Rated a Top 529 Plan by Morningstar
In a recent article The Best and Worst 529 College-Savings Plans by Morningstar, the Ohio CollegeAdvantage plan was rated in the top 5 plans: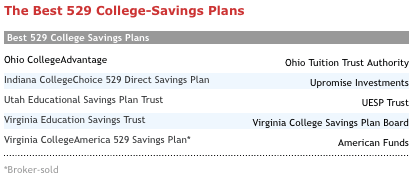 Features they liked included having a wide variety of investment options (including active/passive, multiple age-based options, and even ultra-safe CDs), as well as low total expenses. In-state resident can also deduct up to $2,000 of contributions per year, with excess carryover allowed.
My Personal Experience
So far, I am quite impressed with the Ohio plan. The website itself is functional and fast, there are a variety of investment choices (cash, index funds, active funds), they are upfront with the fees, and the expenses are very competitive – either the lowest or near the lowest in the nation. There are no inactivity fees, minimum balance fees, or other bogus fees. The only bad thing I can think of is that every time I make a purchase I get a snail-mail confirmation with no paperless option, which seems wasteful.
I have gotten the $25 bonuses plus several referrals, with no complaints from the people I referred. I have also started an auto-debit from my checking account for $50 a month. Right now, half of my 529 is in the Vanguard inflation-protected bond fund. This is an investment option that is unavailable in most state plans. I feel that since college is only at most 18 years away with a big lump-sum payment, I would prefer less volatility while marching towards that goal. This is in contrast to saving for retirement, where I currently have 35 years until I turn 65, and hopefully another 20 years after that as well.
Referral Bonus Instructions
Currently the newly referred person gets $25, and the referring person gets $50, and I'd love for you to help fund my kid's college dreams. 😀 Here's how:
You can enroll online or via mail. The online process was quick and easy, and I didn't have to mail in anything.
The first step is to input your personal info and choose a login/password. Next, you'll verify your e-mail and complete the application.
After that, you'll choose your funding amount and select an investment fund. Your initial deposit must be a least $25, and is funded using the account/routing numbers of your bank account. At the bottom, you will need to enter a referral code to get the bonus. Enter *.
In 1-3 days, your initial deposit will be taken from your bank account, and in 5-7 business days you will get your $25 bonus. The $25 will be deposited directly into the 529 account, and will be invested in the same thing as your initial deposit.
If a child has two parents, one parent may sign-up and then refer the 2nd parent to get another bonus, while both can list the same child as the beneficiary. If your child is not born yet or does not have a Social Security number yet, you can choose yourself or another family member as the beneficiary, and then later on fill out a Change of Beneficiary form.
Here is a screenshot of me getting my $25 bonus successfully and as promised:

* Javascript is required. If you can't see any numbers, please use 2439350.