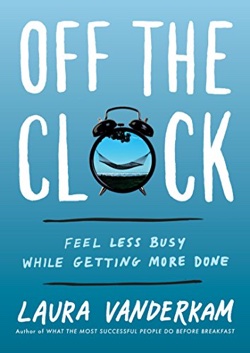 If you are serious about dramatically improving your personal finances (like getting rid of credit card debt), the first step is to find out exactly where your money goes – track every dollar for a month using a spending log. I recall it being quite uncomfortable, but also eye-opening. In the same way, the book Off the Clock: Feel Less Busy While Getting More Done by Laura Vanderkam is based on the detailed hour-by-hour time diaries of thousands of people.
What characteristics make some people both feel less busy yet still spend time on the activities that are important to them? Some of the highlights below you may have seen elsewhere, but I did discover some new, actionable advice.
Know where your time goes. Track it. Reflect.
As a born skeptic, I had long been fascinated by what these logs showed about the blind spots people have about time. There can be great gaps between how we think we spend our time and reality as recorded. People claim to have no leisure time and then can recount in detail what happened on the most recent Big Bang Theory. Or—I was guilty of this one—we feel like we spend hours unloading the dishwasher, only to learn it takes five minutes each time, the four times per week we do it.
First, people who feel like they have enough time are exceedingly mindful of their time. They know where the time goes. They accept ownership of their lives and think through their days and weeks ahead of time. They also reflect on their lives, figuring out what worked and what didn't.
It is not that people who have more free time have the time to reflect. After all, people with low time-perception scores actually spend more time on social media and TV than people with high time-perception scores. Instead, people allocate time to thinking and reflecting, and then they feel that they have more time.
Get rid of time-wasting activities. Check your e-mail less often. Check your phone less often. It wastes time, makes you more anxious, and it doesn't create lasting memories. Be aware and perhaps limit your TV time.
They scrub their lives of anything that does not belong there. This includes self-imposed time burdens, such as constant connectivity, that clog time for no good reason. Indeed, one of the most striking findings of my survey was the gap in estimated phone checks per hour between people who felt relaxed about time and those who felt anxious.
Accept the "good enough" and even "better than nothing". Aim for small, daily habits that move you steadily towards your goals. Five minutes towards your goal every day is so much better than nothing.
They let go of expectations of perfection and big results in the short run. Instead, they decide that good enough is good enough, knowing that steady progress over the long run is unstoppable.
What type of person do you want to be? What do you want to be known for spending your time on? Pick your worthwhile struggle. Spend time on the important people in your life.
There is freedom from things we don't want to do, but there is also freedom to do the things we want to do, and figuring out the right balance requires understanding when commitments are burdens and when they are benefits.

These choices involve commitments, but they also stretch time, because as you choose to spend time on these things, you become in your mind the kind of person who has the time to spend on these things.
Happiness requires effort. It is not just bestowed; it is the earned interest on what you choose to pay in.
If my anticipating self wanted to do something, my remembering self will be glad to have done it. Indeed, my experiencing self may even enjoy parts of it. I am tired now, but I will always be tired, and we draw energy from meaningful things.
Outsource the other pain points if possible. Outsource the chores and errands that cause the most stress and/or block other productive pursuits.
In my life, learning to use childcare strategically has been a big breakthrough.
Fight for more flexible hours or less hours at work. The author shares stories about an engineer that had to find a new job first and threaten to quit, before the old employer would allow them to work at home for 4 days a week. (Sounds familiar!) Others have cut their work hours to 80% of full-time or 50% of full-time (if they can afford the accompanying loss in income). However, I found this quote to be useful work advice:
Of course, not all organizations or jobs are amenable to part-time work, and sometimes going off a full-time track can have far-reaching implications for a person's career. I find that part-time options tend to work best in careers (such as medicine) where hours are more set and you are either in the office or not. The danger in other kinds of salaried work, as my time-diary studies have found, is that if no one knows how many hours anyone is working, "part-time" can often mean full-time hours for less pay. If that sounds like the reality of your industry, it might be a more satisfying option to hunt for (or craft) a job you love, and then negotiate for flexible hours in lieu of extra cash. If you do elect to take a pay cut to go part-time, work out a schedule where you get real days off—for example, you don't go into the office Thursday or Friday—rather than accept vague promises of a reduced workload. This has the virtue of reducing work hours and commuting time too.
Ready to do your own time diary? The author provides free timesheets (including PDF, xls, and Google Sheets versions) for her 168 Hours Time Tracking Challenge at LauraVanderkam.com where you can track your own time for a week.
After tracking your time, look back over your schedule and ask yourself a few questions: What do I like about my schedule? What would I like to spend more time doing? What would I like to spend less time doing? How can I make that happen?
This book was published in 2018, but the author also has a new book Tranquility by Tuesday: 9 Ways to Calm the Chaos and Make Time for What Matters that just came out October 2022, although I have not read it and don't know how it differs from this book.