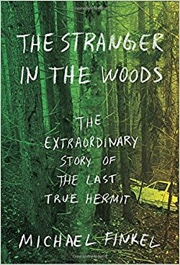 Of my summer reads was The Stranger in the Woods: The Extraordinary Story of the Last True Hermit by Michael Finkel. Many people dream about leading a "quiet life" away from all the hustle and bustle. The "North Pond Hermit", real name Christopher Knight, lived alone without speaking or interacting with another human being for 27 years. Read a preview in this GQ magazine article.
Since this is not a personal finance or investing book review, I will just let you read the nice synopsis from the Amazon listing:
In 1986, a shy and intelligent twenty-year-old named Christopher Knight left his home in Massachusetts, drove to Maine, and disappeared into the forest. He would not have a conversation with another human being until nearly three decades later, when he was arrested for stealing food. Living in a tent even through brutal winters, he had survived by his wits and courage, developing ingenious ways to store edibles and water, and to avoid freezing to death. He broke into nearby cottages for food, clothing, reading material, and other provisions, taking only what he needed but terrifying a community never able to solve the mysterious burglaries. Based on extensive interviews with Knight himself, this is a vividly detailed account of his secluded life—why did he leave? what did he learn?—as well as the challenges he has faced since returning to the world. It is a gripping story of survival that asks fundamental questions about solitude, community, and what makes a good life, and a deeply moving portrait of a man who was determined to live his own way, and succeeded.
People seem to form strong opinions about this story. Some treat him as some sort of inspirational figure. Others only saw a saw a weirdo that stole a bunch of things. A lot of time and energy was spent trying to label him with the appropriate psychological disorder.
My takeaway from the book was that he was a simple guy. He wanted to be alone. That was it. He wasn't a libertarian or other political leader. He wasn't religious. He wasn't an environmental activist. He was never violent and didn't carry a weapon. He wasn't trying to impose his views on anyone.
The fatal flaw to his plan was that he couldn't provide his own food and shelter. He had to steal things from other humans to keep warm and to feed himself. His criminal trial sounded rather boring – He pled guilty for stealing about $2,000 worth of stuff like propane tanks, canned food, and batteries. More importantly, he affected the personal security of the people he stole from. Knight did wrong things, and he knew it. He served roughly a year in jail with specific terms during probation.
I kept thinking to myself – Christopher Knight could have lived alone forever if he had just worked and saved up some money for a few years. He has nearly all the traits required for early retirement – disciplined, resourceful, low expenses, and disregard for social pressure. Knight said that growing up as a kid, his rural Maine family taught him that being tough was better than strong, and clever is better than intelligent.
What if he had read the books Your Money or Your Life or Early Retirement Extreme when he was 20 years old? (I know they weren't published until 1992 and 2010. But what if they were?) ERE author Jacob Lund Fisker used to catch flack because he voluntarily took cold showers to both save money and follow his personal philosophy of self-discipline and low environmental waste. Christopher Knight took cold baths from a bucket of rainwater for 27 years. No problem.
He had already shown that he was willing to sacrifice nearly anything to stay away from people. He was willing to live in a tent. He pooped in the bushes. He never spoke a single word so as to keep hidden. How much would it really have cost him to live in the woods alone? $5,000 a year? If you use the 25x rule (aka 4% withdrawal rate), that's $125,000. If he kept his previous job as a home security technician, he probably could have saved that up in 5 years.
This guy is not a role model, but that's kind of the point – with financial independence you don't need to worry about what others think. The book doesn't provide a current update on Christopher Knight. Maybe he did save up enough "F- You money" and is now alone again somewhere, minding his own business.