Before we get into being all thankful for family and friends and caffeine and stuff, let's complain about all the stuff you hate dealing with.
From a WSJ article on why we still hate the airline industry (shocker!), here is a list of what good and services Americans are least satisfied with. Based on the American Consumer Satisfaction Index survey.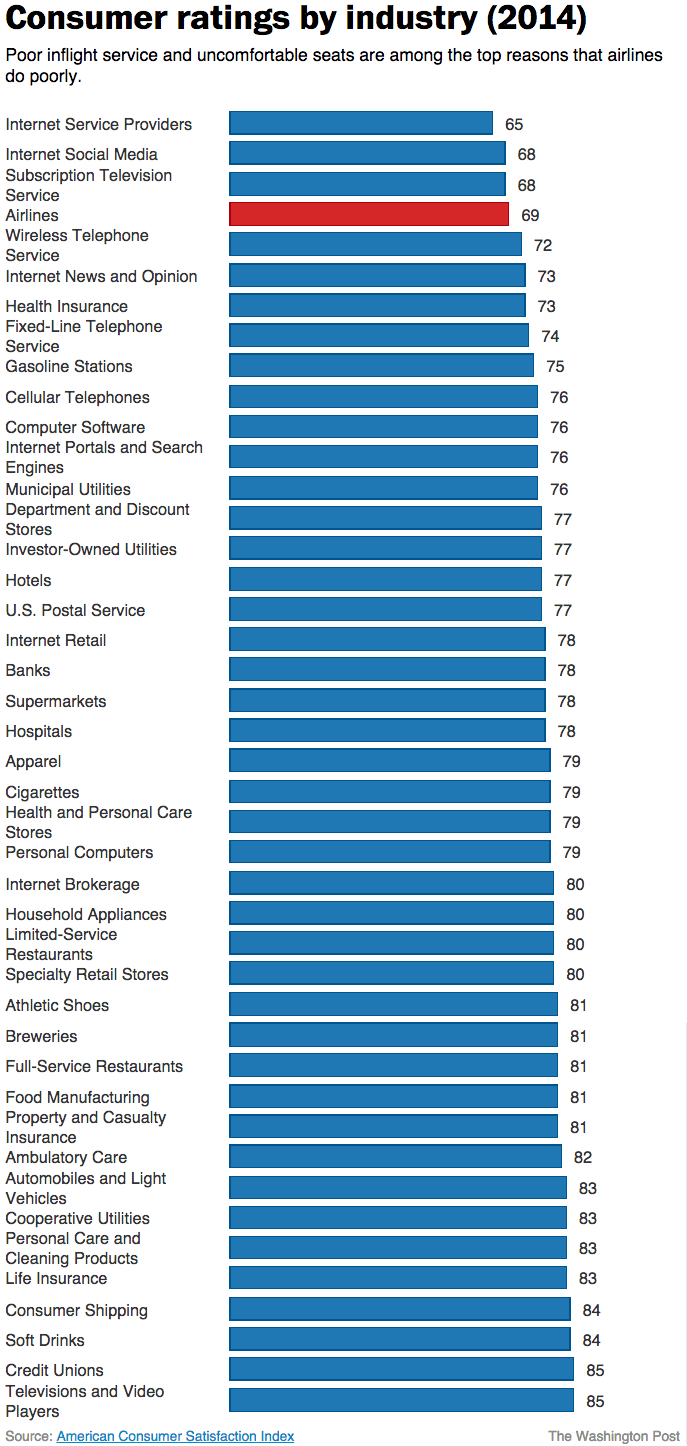 Let's see what I think about the top 5:
Internet Service Providers: Well, they do charge a lot for very mediocre speed and the reliability has been spotty recently. Not to mention they keep fighting Net Neutrality. I wish I had Google Fiber.
Internet Social Media: I'm not really sure what this means. I am not very active on Twitter nor Facebook. MMB commenters are all smart and good-looking, but reading the internet comments on major news sites like CNN does make me sad about humanity.
Subscription Television Service: My inability to let go of live sports is certainly costing me a bundle, but cable TV hasn't actively pissed me off… this year. Well, wait, my laggy DVR does appear designed in 1994 with a 386 processor.
Airlines: I know that there are hardworking folks in the airline industry, but I just had an entire conversation with a Delta gate agent and they didn't make eye contact even once. Why provide good service when everyone hates you anyways seems to be the attitude. The problem is that selling cheaper airfare with lots of gotcha add-ons is that it works and they are now making good money. Sigh. I can't believe people haven't revolted yet on how seat pitch keeps decreasing every freakin' year.
Wireless Telephone Service: I have no real complaints. There are many options now if you want to avoid full-price, full-service cellular carriers. Basic cell phone service can be pretty darn cheap these days. I guess I'm just still amazed by what my smartphone can do with a data plan while I'm in the middle of nowhere.