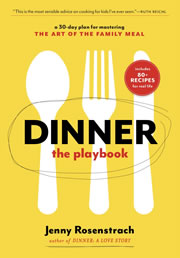 We hit consecutive 10 weeks of cooking at home x 5 times a week! (Now we're going on vacation so the streak must end.) Some days are fun, some days you just want to get it on the table.
Since I liked the first book by Jenny Rosenstrach so much, I also bought her second book Dinner: The Playbook – A 30-Day Plan for Mastering the Art of the Family Meal. While the first book was more autobiographical, this one is more focused on what you need to make home-cooked dinners happen. First, you need the right recipes:
I can't stress this enough: You will cook more regularly if you choose simple recipes. By choosing simple recipes, you will get dinner on the table more efficiently and you will not end up with a pile of dirty dishes that makes you want to chug a bottle of beta-blockers. By minimizing the prep work and the cleanup (and the beta-blockers), you will be far more likely to do it again the next night. And that is the goal. Sustainable routines. Pleasant tableside experiences. Success. Which for our purposes right now will be defined as "a fifteen-minute period of time during which food is consumed without drama." In short: The best home cooks choose the easiest recipes.
The book contains over 80 such recipes. But even with a dead-simple recipe, if I am faced with another trip to the grocery store after work, I'm going straight to the frozen lasagna (or worse, my kid's chicken nugget stash!). You'll also need to incorporate some structure and pre-planning for success.
The best tip that I learned from Jenny Rosenstrach's books was to plan every week's dinner out in advance. I plan for 5 nights cooking, 1 dinner-from-a-box (frozen dumplings, lasagna, premade burritos, etc.), and one dining out each week. Every Saturday night or Sunday morning, I pick out 5 recipes that I want to try. (Usually three come from a Rosenstrach book or blog!) I scan the recipes and (1) make sure that it really is doable with my limited culinary skills and (2) note what ingredients I need. Once you get better, you can pick the ones that share ingredients to save money, but I wouldn't worry about that in the beginning. Just pick whatever sounds both tasty and easy.
My older kid wakes up at 6 am every single day, so on Sunday morning at 7am we hit the grocery store and Farmer's market (in the same complex, sweet!). The world is still quiet, the man at the farmer's market stand with the good salad mix always gives her a free banana, and I never have to go decide if I want to go to the store at 6pm on a Wednesday just for one ingredient.
Why is this important? See my flowchart. If you get arrive home from work and you don't have all the raw materials in front of you and a plan to make into a meal, you will fail. Remove all roadblocks! Fail to plan, and you plan to fail! Insert other cliche here!
In addition, try to do whatever prep work you can each morning. My thing is just to double-check that I have all the ingredients, like making sure the spice containers aren't nearly empty or the herbs aren't yellow or rotten.
Finally, you need a 30-day challenge to get you going. By committing to 30 days and 30 dinners, you will hopefully be able to break out of your current rut and have enough momentum to make homemade dinners a regular habit. I suggest taking her option of backing this off to 20 dinners in a month, making each week 5 days on and 2 days off.
Bottom line: Good book, similar ideas to first book but less about her and more clear on purpose. I bought it mostly for the additional simple recipes. Cooking at home saves us so much money each month, this book easily pays for itself.