While shopping at Costco yesterday, I was greeted with a peculiar sign: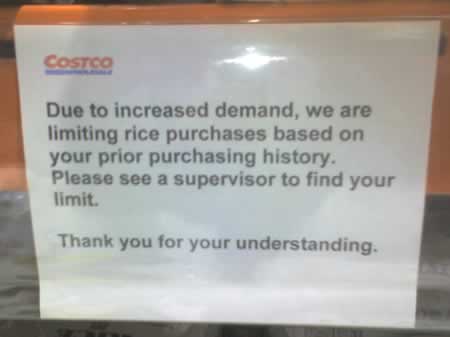 We bought one bag, which apparently did not require supervisor approval. My weak understanding of all the buzz:
1. Rice prices globally are rising.
2. This is greatly affecting countries like China, Vietnam, India, who are usually great exporters.
3. They may not export as much.
4. US citizens will likely pay more as a result.
5. Big rice buyers like bakeries worried, want to buy lots of rice now.
6. Costco and Sam's want enough rice to make all their customers happy, so they limit purchases.
7. Buzz from CNN playing this story all day long causes (I think) undue hoarding.
But, why not just raise the prices now? It's not like a Wii where the price is set by Nintendo. Is this happening near you as well?