The NFL Extra Points Credit Card issued by Barclaycard is the only credit card officially co-branded with the National Football League. They are savvy too – the very first thing you do on the application is pick your team, so it can show you a credit card plastered with your favorite logo on it (not the generic one shown to the right). It is certainly a conversation starter; all 32 team logos are available.
Now, there are plenty of "affinity" cards out there that let people show off their university alumni status, preferred charity, or favorite sports team, but most of them have rather vanilla rewards. In contrast, this NFL-sponsored card offers some unique rewards that you can't find elsewhere. A lot of people dream about going to the Super Bowl. Since it is coming up, I thought I'd take a closer look at using credit cards points to get you there. First, the card highlights:
All 32 team cards are available, customized with your favorite team's colors and logo
Earn 10,000 bonus points after $500 in purchases in the first 90 days, enough to redeem for $100 cash back
20% off purchases at NFLShop.com – that's $20 off every $100 you spend
0% Promotional APR for 6 months on eligible NFL ticket purchases. After that a variable APR will apply, 15.24%, 20.24% or 25.24%, based on your creditworthiness
Earn 2 points per $1 on NFL or Team purchases – eligible game tickets, in-stadium and team pro shop purchases – and 1 point per $1 on all other purchases
Redeem points for NFL game tickets, VIP experiences, or 1% cash back beginning at 2,500 points for $25
0% Introductory APR for 15 months on Balance Transfers made within 45 days of account opening. After that a variable APR will apply, 15.24%, 20.24% or 25.24%, based on your creditworthiness. Please note, there is a fee for balance transfers.
In terms of cash back rewards, those start at 2,500 points for a $25 statement credit. Considering you only get 2X points on NFL and DirecTV purchases and 1 point per dollar on all other purchases, there are better cash back cards out there. But are the exclusive NFL perks a good deal?
Selected list of exclusive NFL experiences. Sure, you can redeem for a wall poster or t-shirt, but these are examples of the more unique options:
10,000 Points: 2 Tickets to an NFL PreSeason Game
25,000 Points: 2 Tickets to an NFL Regular Season Game
25,000 to 50,000: Official NFL Mascot appearance at your event or party.
100,000 Points: Round of Golf with an NFL Player
160,000 Points: 2 NFL Super Bowl Tickets (Upper Level)
200,000 Points: 2 NFL Super Bowl Tickets (Mid Level)
250,000 Points: 2 NFL Super Bowl Tickets (Lower Level)
There are also Draft VIP parties, Training Camp experiences, Stadium Tours, or having your personal message appear on your team's scoreboard. The specific redemption amounts vary by team.
Super Bowl Ticket value? You may or may not know this, but the only way for the general public to even have the option of buying Super Bowl tickets at face value ($500 each) is by lottery. To enter this random drawing, you must send a ticket request via certified or registered mail, between Feb. 1 and June 1 of the year preceding the game in question. Those selected in the random drawing will have the opportunity to purchase two tickets.
Super Bowl Random Drawing
P.O. Box 49140
Strongsville, OH 44149-0140
If you're not one those lucky few, you're stuck on the secondary market. Check out this FiveThirtyEight article on the crazy markups. According to ESPN, the day after the conference championship games last year, StubHub's average Super Bowl sale was $3,042. This year? $5,461. Here's another price chart from BusinessInsider and SeatGeek: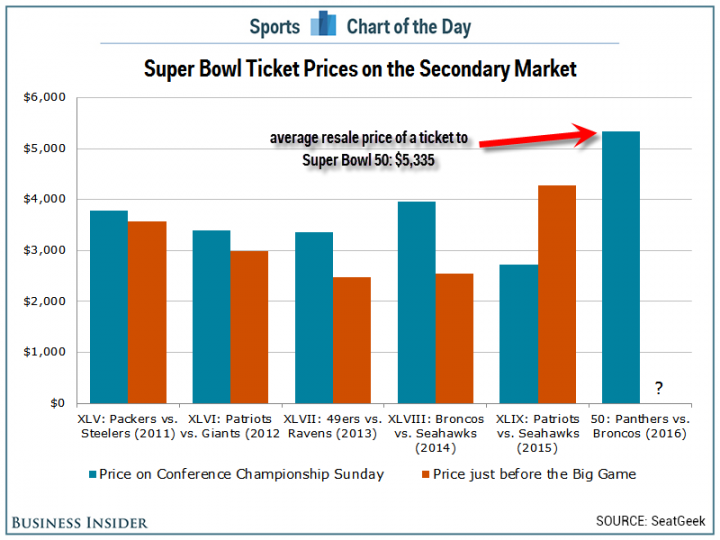 Let's say a reasonable estimate is $3,000 per ticket. For 160,000 points, you get two tickets. That makes it $6,000 value divided by 160k points = 3.75%. That's a whole lot better than 1% cash back. Of course, you'd still have to figure out how to eventually charge $160,000 on your credit card, but some frequent business travelers, small business owners and/or wholesale buyers may have it within reach. Otherwise, just 10,000 points will get you two tickets to a pre-season game, and 25,000 will get you two regular season tickets (available up to a week before game day, usually the specific stadium section number is shown ahead of time).