School is back is session and lots of people are buying new computers. I'm thinking of one myself, to replace my aging 2007 refurbished Mac Mini that cost $400. As an example, the manufacturer's warranty on a new* Apple Macbook is only one year, unless you pay an extra $250 for AppleCare. (*Still 1-year if you buy refurbished.) A much more economical option is simply to buy it with an American Express credit card. The "Extended Warranty" feature on their consumer cards is pretty generous, with details from their FAQ page:
When you charge the cost of a covered product with your American Express® Card, the Extended Warranty1 will extend the terms of the original manufacturer's warranty for a period of time equal to the duration of the original manufacturer's warranty, up to one additional year on warranties of five years or less that are eligible in the U.S.
This means your Apple warranty will have been doubled to 2 years if bought with your AMEX. Be sure to keep as much supporting paperwork as possible, including your original receipt and the warranty information. Some versions of Visa and MasterCard also have an extended warranty feature, but in my experience AMEX is the best at actually paying out when called for. Even the consumer advocate site Consumerist has a tale of AMEX refunding the entire cost of a laptop as part of their extended warranty. I've also written before on the AMEX warranty covering a Roomba vacuum. AMEX has some other additional features as well, but I'll save those for later.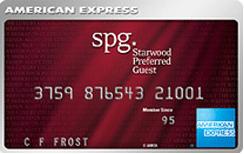 Starwood Preferred Guest Credit Card from American Express
My default rewards card. You get 1 point per $1 spent, and 20,000 Starwood points = 25,000 airline miles (free ticket). Essentially up to 1.25 miles per dollar spent, and you can convert to a variety of airlines or free hotel rooms. Top off an account, or convert a big lump sum. Currently, the sign-up bonus is 10,000 points (worth $100 gift certificate at Amazon.com) after first purchase. On top of that, you can also get an additional 15,000 points by spending $5,000 on the card within the first 6 months. Annual fee is waived for the first year, and is $65 the second year if you keep it.