If you're like me, you're vaguely aware that you can get some sort of additional warranty coverage from your credit card, but not interested enough to carefully read those little brochures with the tiny print that come in the mail. Today a fellow named Joe sent me a story about his broken Roomba which describes his experience with American Express when his beloved vacuum broke after 18 months, which was 6 months past the manufacturer's 1-year warranty. It's a bit long-winded, but in the end AmEx did refund his original $300 purchase price. After reading it and doing some other hunting around, here's a summary of the American Express Extended Warrant feature:
The Basics
All American Express (AMEX) cards (as well many versions of Visa and MasterCard) offer an automatic warranty extension if you buy the product using their card. Specifically for American Express, here is the fine print from the their FAQ page:
1. How does the Extended Warranty work?
When you charge the cost of a covered product with your American Express® Card, the Extended Warranty will extend the terms of the original manufacturer's warranty for a period of time equal to the duration of the original manufacturer's warranty, up to one additional year on warranties of five years or less that are eligible in the U.S.
In other words, in general they will double the original manufacturer's warranty, but only up to one year. This is unless your product has a warranty of over 5 years as default. If you are still covered by the original warranty, you must go through the manufacturer. You do not need to sign-up or perform any kind of activation process to get this extended warranty.
Things You Need To Keep
American Express seems to advertise this service the most, and anecdotally is one of the best at actually coming through with their promise. However, you'll still need to keep several pieces of information to support your claim. For all your big purchases, use an AmEx and keep these papers somewhere organized!
The original purchase receipt, which notes which product you bought, the date of purchase, and that it was bought entirely with an American Express card.
The product warranty card, which outlines the details of the original manufacturers warranty.
Your old AmEx credit card statement, which lists and matches the purchase receipt above.
The broken product. AmEx may choose to replace your item, repair it, or refund the purchase price. They choose, so keep what you have until they say so. If they replace it, they may ask you to send the broken item back to them.
Filing a Claim
To start a claim, the Extended Warranty department's phone number is 1-800-225-3750. You can check the status of your claim online at www.americanexpress.com/onlineclaim. Be prepared to wait two weeks for the claim to process after submitting support materials.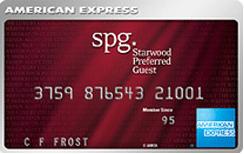 Starwood Preferred Guest Credit Card from American Express
My Swiss army knife of travel rewards cards. You get 1 point per $1 spent, and 20,000 Starwood points = 25,000 airline miles (free ticket). Essentially up to 1.25 miles per dollar spent, and you can convert to a variety of airlines or free hotel rooms. Top off an account, or convert a big lump sum.
Currently, the sign-up bonus is 10,000 points after first purchase. On top of that, you can also get an additional 15,000 points by spending $5,000 on the card within the first 6 months. Annual fee is waived for the first year, and is $65 the second year if you keep it.
American Express Disclaimer: This content is not provided or commissioned by American Express. Opinions expressed here are author's alone, not those of American Express, and have not been reviewed, approved or otherwise endorsed by American Express. This site may be compensated through American Express Affiliate Program.