Our tax rates for the next two years have been decided, a two whole weeks before January 1st! Just in time for their winter break, what a coincidence. 😉 The "Tax Relief, Unemployment Insurance Reauthorization, and Job Creation Act of 2010" was signed into law last Friday. There's a lot of stuff in it, as with any tax-related it seems, but here are the two big highlights for individuals:
Payroll Tax Cut
The employee portion of the Social Security tax is reduced to 4.2% in 2011, down from 6.2%. This lasts only for one year. The employer portion remains unchanged at 6.2%. The limits on wages subject to Social Security tax remains at at $106,800 for 2011. Medicare taxes remain unchanged at 1.45% each for employers and employees.
For example, someone earning $50,000 will pay 2% less towards Social Security, for a tax savings of $1,000 spread out over a year of paychecks. The maximum savings per person is then $2,136. Your future Social Security benefit is not directly affected by this change.
However, what has been expired is the "Making Work Pay Tax Credit" of 2009 and 2010, which was a refundable tax credit 6.2 percent of earned income, up to $400 (single) or $800 (married filing jointly). This meant that if you were single with earned income of at least $6,452 in 2010, you got a $400 tax credit. Married couples filing joint returns earning over $12,903 got $800. Note that this tax credit was phased out for taxpayers with modified adjusted gross income in excess of $75,000 (single) or $150,000 (married couples filing jointly).
Net Benefit
Here's a chart from the Tax Policy Center showing the net difference in tax savings from two as a function of earnings.
As you can see, our example of a single person earning $50,000 would be paying approximately $600 less in taxes in 2011. (Gain of $1,000 payroll tax cut, loss of $400 MWP tax credit.)
Current Individual Income Tax Rates Extended
The current income tax rates, sometimes referred to as the "Bush Tax Cuts", are extended for everyone for two years. Although the exact income ranges are not set, here are projections from the tax software provider CCH Group. They are slightly higher than the 2010 Federal tax brackets, due to inflation.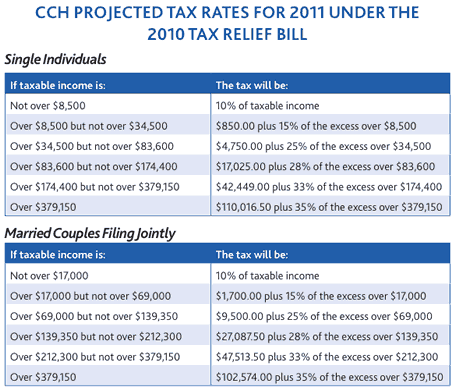 For the curious, it is estimated that an individual earning $50,000 in 2011 will paying $890 less in federal income taxes as compared to what would happen if no action was taken (even though that was highly unlikely).
Also…
The top rate of 15% for qualified capital gains and dividends is extended for another two years, along with the 0% rate for taxpayers in the 10 and 15 percent income tax brackets.
Another last-minute patch was made for those subject to the Alternative Minimum Tax because the brackets were not mandated to be adjusted with inflation. The 2010 exemption amount will be $47,450 (single) and $72,450 (married filing jointly).
Extended unemployment benefits are to be continued at their current level for 13 months.
Since we know that the income and capital gains tax rates will stay the same for the next two years, the standard end-of-year tax actions should apply. The general idea being to take any deductions you can right now, and defer as much income as possible until next year.