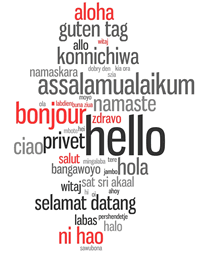 I've been getting back into podcasts while driving, and have been catching up on the Alton Brown podcast. In the Samantha Brown episode, she shared a good tip about international travel and language barriers that I've never read in a guidebook: Never go around asking people if they speak English. Even if you say the question in their home language. Because when you say:
Do you speak English?
What they often hear is:
You speak English, DON'T YOU?
This comes off as a challenge, with the suggestion that you are expected to serve them. It starts off your conversation on the wrong foot. I know, I used to do it myself. You can see their face clench in a defensive manner.
The trick is to simply attempt your question in their home language (with a smile). Even if it is just "Hello" or "Excuse me" and then gibberish. They'll be able to tell you don't speak their language well. Most likely, they'll even be able to figure out you speak English (even if you don't think you look American) by your accent. Then if they do speak English, they'll help you. If they don't, they'll still try to help you. People tend to be very nice in this regard. As Samantha Brown sums it up:
It's better to butcher their language and show that you care, rather than speak perfectly in your own language and prove that you don't.
For more pro travel tips check out Top 20 Hacks to Travel Like a Kiva Pro and How to Travel by Anthony Bourdain.