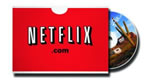 Netflix users around the country are abuzz about Netflix's new pricing plans. Previously, all DVD plans included unlimited internet streaming. Late last year the prices were upped slightly to $10 a month for 1 DVD out at a time, $15 for 2 DVDs, and $20 for 3 DVDs. (I'm rounding because I think .99 pricing is annoying.) Coming September 1st, 2011, Netflix has separated the DVD and Streaming options completely. Streaming is $8 a month, and there is no discount if you add it to a DVD plan. 1 DVD at a time is $8, making the total now $16 month – a 60% price hike. 2 DVDs at a time is $12, making the new total $20 a month, a 33% price hike.
Now, that's one way to look at it. However, I really only used Netflix streaming very lightly. Instead, I can now get my 1 DVD a month for only $8. Or, I can upgrade to 2 DVDs for month for $12. I think that streaming video is the key to Netflix avoiding becoming the next buggy-whip manufacturer, and that making things a la carte was something that had to be done sooner or later. I just think the move came too early. Their streaming quality and selection is simply not good enough for me to pay $8 a month for it.
According to a reader poll last month, 63% of you subscribe to Netflix. So think about it for a minute… what are you going to do?

Loading ...
Some people say that they are going to switch to Redbox or Blockbuster Express, but I'm actually probably going to go with the 2 DVDs for $12 plan, since I don't like having to remember to return movies at the grocery store. If anything, this will push me to explore other online streaming options for the occasional "I'm bored and there's nothing to watch" moments. I know that with a paid Amazon Prime membership ($79 annually) you can get free access to Amazon Instant Video as well as that handy 2-day shipping. Not sure how good their selection is, though. Alternatively, I could rent movies a month from iTunes at $1-$4 each, and they'd be new releases.