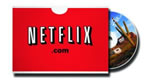 I'll be honest, I did not see the success of Netflix coming. I thought it was a nice, cute DVD rental business that would probably be bought out by Blockbuster eventually, leaving their founders stupendously rich. But look around today: Blockbuster is bankrupt, and Netflix now has more subscribers than any U.S. cable or satellite provider, including Comcast.
That's more than 24 million customers and growing (9 million added last year). Since the start of 2009, shares of NFLX stock are up 828% to $260 a share. Online streaming of Netflix videos now takes up 30% of all downstream bandwidth during peak hours. All those DVDs flying back and forth make up more than $600 million a year of the US Postal Service's revenue.
I've been a customer of Netflix on and off during the last few years. I don't watch very many movies in theaters, so when I feel like I'm falling behind popular culture references, I subscribe for a few months and catch up. The good thing is that Netflix makes it incredibly easy to stop, pause, and restart subscriptions. My "wanted" queue is stored. (You can only do the free month trial once per account.) I don't own a Wii/PS3/Xbox and rarely stream video from my laptop, but I have noticed improvement in the selection available. How about you?

Loading ...
Sources: BusinessInsider, Guardian