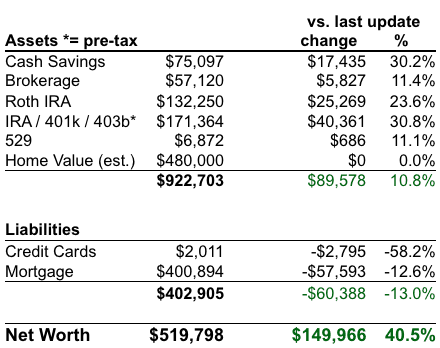 Oh alright, here's another net worth update. My last snapshot was about 9 months ago. I know people like the voyeurism, but hopefully my commentary will also provide some helpful insights as to achieving our goals.
Credit Card Debt
I used to take money from credit cards at 0% APR and place it into online savings accounts, bank CDs, or savings bonds that earned 4-5% interest (yes I know, much less recently), keeping the difference as profit while taking minimal risk. (Minimal in regards that the risk was only dependent on my behavior and not outside factors.) However, given the current lack of great no fee 0% APR balance transfer offers, I am currently not playing this "game".
Most credit cards don't require you to pay the charges built up during a monthly cycle until after a grace period of about 14 days. This theoretically provides enough time for you to receive your statement in the mail and send back a check. As this is simply a snapshot of my finances, my credit card debt consists of just these charges. I don't carry any balances or pay any interest charges.
Retirement and Brokerage accounts
Since my last update, the broad stock indexes have risen significantly, about 25% including dividends according to Vanguard Total World Stock Index ETF (VT) that I use as a general benchmark. Although these high valuations make me nervous, I am still a believer in stocks for the (very) long run and rebalancing your asset allocation regularly. Don't buy high and sell low.
Here is our target asset allocation. Being heavy in stocks, our portfolio bounced back significantly as well.
Our total retirement portfolio is about $360k or on an estimated after-tax basis, $318,000. At a theoretical 4% withdrawal rate, this would provide $1,060 per month in retirement income, which brings me to 42% of my long-term goal of generating $2,500 per month. These are all really rough numbers, but helpful to measure progress and visualize living off your portfolio.
Cash Savings and Emergency Funds
We are happy to hold a year's worth of expenses (conservatively estimated at $60,000) in our emergency fund. According to my emergency fund poll, many of you readers also have substantial savings set aside, with most having at least 4 months of expenses. Very nice.
Recently I wrote about how I maximize interest in my emergency fund, including the specific banks and institutions I use.
Home Equity
I would like my house paid off in 15-20 years at most, so I've been putting some extra money towards the mortgage. Note that this is only after maxing out both our 401k plans, fully funding IRAs every year, and creating a one-year emergency fund. I'd like our mortgage pay-down progress to parallel our portfolio growth so that both are ready for at least partial retirement in about 10 years.
So there you have it. Mrs. MMB and I both earned a six-figure salary again last year, which combined is in the top 5% of households. We try to save a lot of it while it stays this way. 🙂 The future is hard to see, but we're getting there a lot faster than we thought we could.