Updated and revised 2013. You often hear that stock investing is a sure thing over the "long run". But as this chart from the NY Times and Crestmont Research shows, there is still a lot of variability involved. The matrix below visually displays the annualized returns for the S&P 500 for every starting and ending year from 1920 to 2010, adjusted for inflation, taxes, and transaction costs.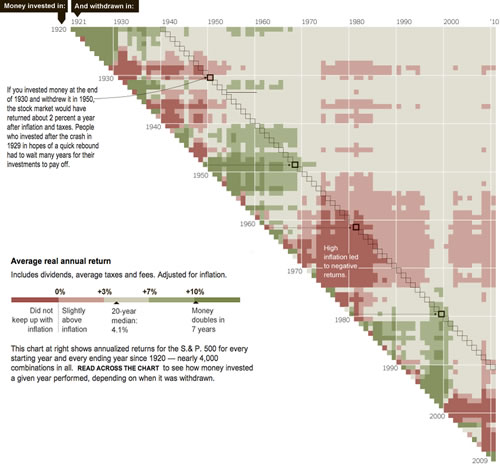 (click to enlarge)
Your actual returns depend a lot upon when you start, and also when you finally withdraw:
After accounting for dividends, inflation, taxes and fees, $10,000 invested at the end of 1961 would have shrunk to $6,600 by 1981. From the end of 1979 to 1999, $10,000 would have grown to $48,000.

"Market returns are more volatile than most people realize," Mr. Easterling said, "even over periods as long as 20 years."
Some further observations:

As your holding period lengthens, the returns converge towards the median of about 4% above inflation, estimated taxes, and estimated fees. Anything higher than that is very rare.
The "long run" may be a lot longer than most people think. It can take 40+ years to get to that 4% real return, not just 15 or 20. Now, if you're in your 20s or 30s, you probably will have a holding time of 40+ years for the money you're investing now. But that is still a very long time.
Visually, investing from about 2000 onwards looks at least so far somewhat like investing from about 1970 onwards. (Both pockets of red in the early years.) Not the most exciting prospects. 🙂 However, even if you start out strong, over the long run the returns also drift back towards the long-term median. It's the money that you invest right before retirement that can be the most at risk, which is why it is often recommended to increase your allocation to bonds as you age. If stocks are doing well and you are nearing retirement, much of your new investments will be into bonds.
For the charts that include the effect of transaction costs (expense ratios, commissions, bid/ask spreads), these are significant. From 1900-1975, these are assumed to be 2.0%. From 1976-1990 they are assumed to be 1.5% and from 2000 onward they are assumed to be 1%. With the help of low-cost index funds and ETFs, the average investor can do much better than that these days.
Crestmont Research has helpfully updated their stock matrix to include return data through the end of 2012, but in my opinion the charts are not as easy to use as the NYT version above so I left that one up as the overall lesson remains the same. The updated versions do offer the ability to compare index-only returns (no dividends), total returns (including dividends), inflation-adjusted returns, and/or tax-adjusted returns.