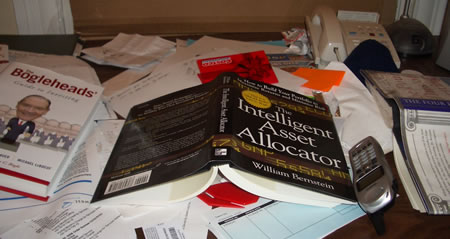 My desk isn't usually quite this messy, but with tests and project deadlines swirling around my head, the weaknesses in my organizational skills are being revealed. I actually have a whole other corner of my desk devoted to school stuff – scary, huh?
I've heard some good things about the Getting Things Done system by David Allen. I've flipped through it at the bookstore and it really appealed to me – talking about getting rid of all the excess noise in our lives and to organize the things that are important so that you can focus on them properly.
If anyone has any experience with GTD or any other good organizational or time management tips, I'm all ears.
p.s. My wife has requested that it be noted for the record that the rest of the house is not this messy, and that I am a slob.