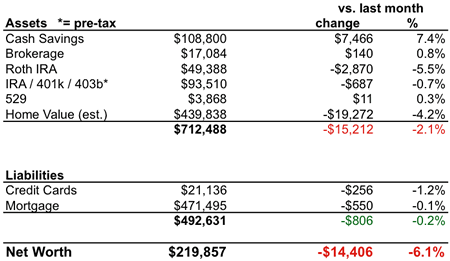 Credit Card Debt
I have taken money from credit cards at 0% APR and placed it into online savings accounts, bank CDs, or savings bonds that earn 4-5% interest (much less recently), and keeping the difference as profit. I even put together a series of step-by-step posts on how to make money off of credit cards in this way. However, given the current lack of great no fee 0% APR balance transfer offers, I am mostly waiting on existing offers to end. My credit score remains high enough that I haven't seen any negative actions.
Retirement and Brokerage accounts
Markets most went sideways this past month. 401k contributions are still going regularly, and I want to make my 2009 non-deductible IRA contributions soon. I still think the best thing to do is to keep investing regularly, although it is quite boring to watch.
Cash Savings and Emergency Funds
We still have a year's worth of expenses in our emergency fund, and it is still growing. Possible uses for extra cash might include capital improvements to the house, including a solar hot-water system to reduce electricity bills, or a photovoltaic system to possibly eliminate them! I love the idea of selling electricity back to the city.
Home Equity
Using four different internet valuation tools – Zillow, Cyberhomes, Coldwell Banker, and Bank of America (old version) – I took the average and took off 5% to be conservative and 6% for real estate agent commissions.
We remain "underwater", with our outstanding mortgage balance greater than what we probably would net after selling our home. Home equity variations continue to dwarf all other activity, which is somewhat annoying since it's not that important. Just gotta shrink that mortgage!