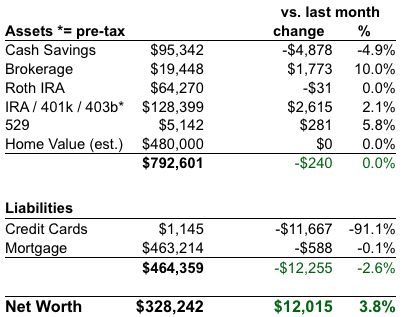 Credit Card Debt
In the past, I have taken money from credit cards at 0% APR and placed it into online savings accounts, bank CDs, or savings bonds that earn 4-5% interest (much less recently), and keeping the difference as profit. I even put together a series of step-by-step posts on how to make money off of credit cards in this way.
However, given the current lack of great no fee 0% APR balance transfer offers, I am no longer playing this "game" and have just paid off my last 0% offer for now. This makes the net worth chart a bit funny, but it should clear up next month.
Retirement and Brokerage accounts
Our total investment portfolio increased by a few thousand dollars since last month. DW's 401k was already maxed out at $16,500. I made another $1,000 contribution to my Solo 401k, for a total of $16,500 contributed in 2009 as well. (I forgot the limit was $16,500 and not $15,500 last month…) This makes us done with our goal of maxing out both our 401k salary contributions for 2009.
I am starting to build up too much cash, and have started investing for retirement in a taxable brokerage account as well. In the interest of tax efficiency, I'll have to move around some investments in order to keep bonds in the tax-advantaged IRAs/401k and the "extra" stocks in taxable. I expect to finish investing $20,000 this week.
Taking that additional 20k into account, our total retirement portfolio is now $211,095, or on an estimated after-tax basis, $170,047. At a 4% withdrawal rate, this would provide $567 per month in tax-free retirement income, which brings me to 23% of my long-term goal of $2,500 per month.
Cash Savings and Emergency Funds
We keep a year's worth of expenses in our emergency fund. Another $10,000 is earmarked for upcoming home improvement projects that I keep putting off (minor roof repair and solar water heating).
Home Value
I am no longer using any internet home valuation tools to track home value. Some people have suggested using my tax assessed value, but I also think that is too high. I simply picked what I felt is a conservative number based on recent comparables, $480,000, and keep it for at least 6 months if not a year. (Currently on month 2 out of 6.) For the most part I am concerned about mortgage payoff, which I still plan to accomplish in 20 years at most.
You can view previous net worth updates here.